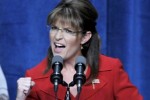 Sarah Louise Palin is an American politician, T.V. personality and political commentator. She was born on February 11, 1964, is married to Todd Palin and has five children. She was the Alaskan governor from 2006 to 2009 and was John McCain's running mate in the 2008 election.
Sarah Palin Q&A
Is Sarah Palin still governor?
Palin stepped down as governor of Alaska in 2009.
Did Sarah Palin go to college?
Palin went to four different colleges in six years. She attended Hawaii Pacific University, North Idaho College, Matanuska-Susitna College and got her degree from the University of Idaho.
What shows did Sarah Palin host?
She hosted the reality show "Sarah Palin's Alaska" and "Amazing America with Sarah Palin".
Sarah Palin Noteworthy Stories
November 19, 2018
Sarah Palin, famous for many gaffes, mocked Alexandria Ocasio-Cortez for describing the three branches of government as "chambers".
August 29, 2018
Sarah Palin was reportedly not going to attend her former running mate John McCain's memorial.
February 1, 2016
In a Today Show interview, Sarah Palin attacks host for not keeping their 'promise'.
Latest Sarah Palin Stories