Soledad O'Brien Grills Rep. Allen West About His 'Get The Hell Out' Of The United States' Comments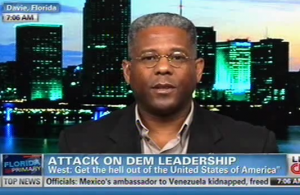 Rep. Allen West (R-Fla.) was a guest on Soledad O'Brien's Starting Point Tuesday morning, and was confronted with questions about his now-infamous, "get the hell out of the United States" comments from over the weekend, directed at Democrats Barack Obama, Nancy Pelosi, Harry Reid, and Debbie Wasserman Schultz.
O'Brien played a clip of the comments, then simply told West:
"I don't get it. I mean, I don't understand what you're saying. Which is… you're telling Obama and Harry Reid and Nancy Pelosi to get out of the United States. Explain it to me."
"No, Soledad. Soledad. Absolutely not. And you know that," West replied.
"No, I truly — no joke. I am not being facetious. I do not get what you're saying."
"Well the thing is," West countered, "you should have listened to the entire speech. You didn't listen to the entire speech which talked about the contrast between the quality of opportunity which allowed a young man born in 1961 in the inner city of Atlanta Georgia to now represent the highest-income zip code in the entire United States of America. That's the America that I love, that's the America that's dear to me." West then invited O'Brien to come to south Florida and read the Federalist papers and Constitution with him.
"As fun as that sounds, the two of us sitting down and reading the Federalist papers together," she said. "No, I'll stick to the TV interviews with you if you don't mind."
Watch a clip of the interview below, courtesy of CNN:
Have a tip we should know? tips@mediaite.com