Steven Crowder Challenges Protester Who Punched Him To Come Forward: 'Jail, Or Face Me Like A Man'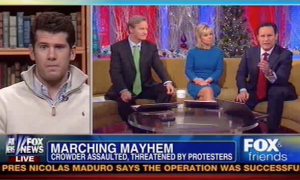 Steven Crowder immediately made headlines yesterday after video surfaced of him being repeatedly punched when he ventured to interview pro-union protesters in Michigan. On Wednesday morning, Crowder paid a visit to Fox & Friends to discuss (and condemn) what happened.
RELATED: Fox News Contributor Repeatedly Punched By Michigan Pro-Union Protestors Tearing Down AFP Tent
"Didn't that remind you of all those violent Tea Party protests?" Steve Doocy asked him sarcastically. Crowder replied that it was more reminiscent of the The Dark Knight Rises — even offering up his best Bane impression.
"I did provoke these people," Crowder added. Provoked in the sense that he was trying to encourage "rational thought and civil debate." But the media narrative of the incident, he said, is that he deserved it because he shouldn't have been there.
About the protests themselves, he said, "I don't think it could get worse." Crowder went on to speak the many people who are apparently trying to identify the man who punched him. To that point, he offered a challenge:
Tony, we know who you are, come forward. I am offering you an ultimatum right now. You come forward, I press charges, you will go to jail. Or — since you like to sucker punch people — I will allow you to face me in the people's octagon, in a legal, sanctioned mixed martial arts bout, where we can settle it man-to-man, one-on-one. And all of the money that's been raised to find you, I will match it if you beat me and give it to a union of your choice. It's your choice: jail or face me like a man. Send your answer on Twitter.
Watch below, via Fox News:

Have a tip we should know? [email protected]