Tina Brown Defends Niall Ferguson's Controversial Newsweek Story On Morning Joe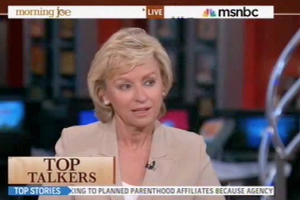 Newsweek/Daily Beast editor Tina Brown joined the Morning Joe crew on Wednesday to weigh in on the day's political issues — as well as respond to the controversy surround Niall Ferguson's Newsweek cover story entitled "Hit the Road, Barack. Why We Need a New President." Brown, while disagreeing with his opinion, defended the story.
"Niall is a swashbuckling, you know, very, very aggressive thinker," Brown said, after Mika Brzezinski noted that many don't agree with him and feel he's skewed facts.
Much of the frenzy about the piece has been focused on Ferguson's citing the Congressional Budget Office's projections about the deficit in his discussion about the cost of President Barack Obama's Affordable Care Act.
Brown did concede that Ferguson could have been clearer in his argument. "What Niall was saying there was his skepticisim about those conclusions, not that they were the CBO's conclusions," she said. "That could have been a little more clear, but the fact is he's clarified that in his rebuttals."
But, she said, Ferguson did what the Republicans have been trying to do: Have a discussion about the economy. "He was trying to say this president has been a failure on this economy, has been a failure on jobs, and has been a failure with regard to the deficit," she added.
Over at POLITICO, Dylan Byers didn't quite buy that line of argument:
That is not quite true. In his first response to Paul Krugman, Ferguson edited the CBO report, changing its meaning in order to make the CBO match his own conclusions. I have noted the edit multiple times this week. He has not addressed this in his rebuttals.
In her brief comments addressing Ferguson's story, Brown went on to note that while she didn't necessarily agree with Ferguson's conclusions, Newsweek aims to be a forum for opposing ideas.
"I actually don't agree with most of what he says in the piece," Brown noted, "but I do think the cover of Newsweek is a place to have a war of ideas, to have battles of ideas, and that is certainly what happened."
Take a look, via MSNBC:

Have a tip we should know? [email protected]