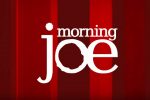 Morning Joe is a weekday talk show airing in the mornings on MSNBC. The shows features in-depth discussions and commentary on current political events, primarily the news.
morning joe Q&A
Who are the hosts of Morning Joe?
The current hosts of Morning Joe are Joe Scarborough and Mika Brzezinski.
Who is Joe Scarborough married to?
Joe Scarborough is married to his co-host, Mika.
What time does Morning Joe air?
Morning Joe airs from 6:00 a.m. to 9:00 a.m. EST.
Latest morning joe Stories