Train Wreck Reality TV Fans Rejoice: Real World Returns To Vegas For 25th Season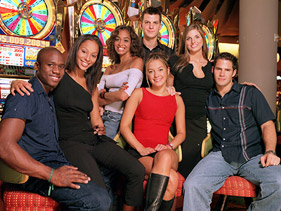 MTV's Real World season in Las Vegas back in 2002 may have been the best non-Jersey Shore season of reality television ever.
For its 25th installment, MTV is returning to Sin City.
MTV seasons of Real World, one of its longest running series and a reality television original, fluctuate in ratings and response. But Vegas, kicking off in March 2011, should be a huge return to debauchery…and great reality TV.
From the release:
"The Real World," which revolutionized MTV and created reality TV as we know it, is turning 25 and is ready to celebrate in style as seven strangers take over Hard Rock Hotel & Casino in Las Vegas. In true Real World fashion, a high roller's suite in Hard Rock Hotel & Casino will be transformed into the ultimate party loft as the series premieres in the 1st quarter of 2011. The news comes following a strong season for "The Real World: New Orleans," averaging nearly 2 million viewers, a 25% increase versus last season…

"The Real World" launched the modern reality television genre and is the longest-running reality series in history. Past seasons have taken place in New York, Los Angeles, San Francisco, London, Miami, Boston, Seattle, Hawaii, New Orleans, Chicago, Las Vegas, Paris, San Diego, Philadelphia, Austin, Key West, Denver, Sydney, Hollywood, Brooklyn, Cancun, D.C. and New Orleans. The first season, set in New York City, debuted in 1992. Each season, the show brings seven young adults to live together in a new city and the cameras roll 24-7, witnessing as their lives intersect, their ideas are challenged and their passions emerge.
—–
» Follow Steve Krakauer on Twitter
Have a tip we should know? tips@mediaite.com