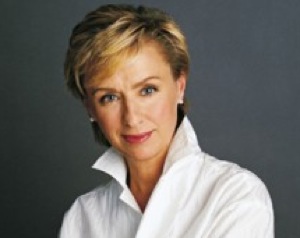 Though Jon Meacham stepped down as Editor-in-Chief of Newsweek this summer, his successor has not yet been named. Before leaving, however, he reportedly told Tom Ascheim, Newsweek's CEO, that veteran magazine editor Tina Brown might be the best woman for the job. Brown, of course, is currently running The Daily Beast—and she's said that she has no intention of leaving that post.
But what if she didn't have to?
Keith J. Kelly is reporting that Sidney Harman—the mogul who officially bought Newsweek from the Washington Post Company in August—and Barry Diller may be working out a deal to combine Newsweek's digital operations with The Daily Beast. Such a merger would allow Brown to take over as the weekly's EIC without forcing her to relinquish her position as editor of the Beast.
As of now, Kelly's report is mostly speculation—he's basing everything on the fact that Diller and Harmon were spied getting drinks together at the Four Seasons in Washington, D.C. Still, the Newsweek-Beast union (Kelly calls it "News-Beast") would make financial and practical sense. As Kelly writes,
Diller, who is on the board of the Washington Post Co., would be very familiar with the workings of Newsweek, which lost more than $40 million over the past two years. Harman is reportedly paying $1 to take over the magazine while assuming up to $50 million in costs. … Diller, who reportedly was willing to spend $18 million on the Daily Beast and who remains a big benefactor of Brown's, would relish a graceful exit to the business, which has struggled for ads from the start and seemingly has little chance of making money in the near future.
Anonymous sources also tell him that Brown has been "obsessed" with the idea of taking over Newsweek since it was announced that Meacham was stepping down. When asked for comment, Brown gave Kelly a statement—"The Daily Beast's audience and revenues have grown beyond our wildest hopes of two years ago. I have no intention of leaving either it or my wonderful partnership with Barry Diller"—that neither confirms nor dismisses the possibility of the merger.
Have a tip we should know? tips@mediaite.com