WATCH: Belligerent Pro-Gun Heckler Gets Tasered By Cops After Hassling Father Of Shooting Victim At Rally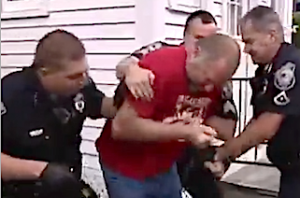 A New Hampshire gun control rally turned violent last night, but thankfully the only weapon dispensed was a policeman's Taser. It all started when 52-year-old Daniel Musso began heckling one of the speakers at the event, John Cantin, who became a gun-safety advocate after he was shot and his daughter was murdered in 2009.
Musso began harassing Cantin from the beginning of his speech, getting right up in the man's face and interrupting him repeatedly. When Cantin asked Musso to "please have a little respect," the heckler responded, "if you had your speech in your mind, you wouldn't have to read all this propaganda shit in front of you."
The "No More Names" rally, set up by Mayor Mike Bloomberg's Mayors Against Illegal Guns organization, marked the more than 5,000 gun deaths since Newtown. Earlier in the day, Cantin delivered a list of those names to Senator Kelly Ayotte (R-NH), who has been facing sharp criticism from her constituents since voting against expanded background checks in April.
Musso eventually walked away after Cantin's fellow supporters shouted him down and urged him to leave the grieving father alone. But on his way out, he was apprehended by police, who were forced to Taser him after he started physically struggling with them. He was arrested and faces several charges including assault against a police officer.
A visibly calmer Cantin spoke to Concord's WMUR-TV, saying "people just need to be more respectful, don't get so emotional about this, everybody has a right to their opinion. We're all Americans–we should be able to express that."
Watch video from the rally, followed by the local news report on Musso's arrest, including footage of police Tasering him below, via WMUR-TV:
—
>> Follow Matt Wilstein (@TheMattWilstein) on Twitter
Have a tip we should know? [email protected]