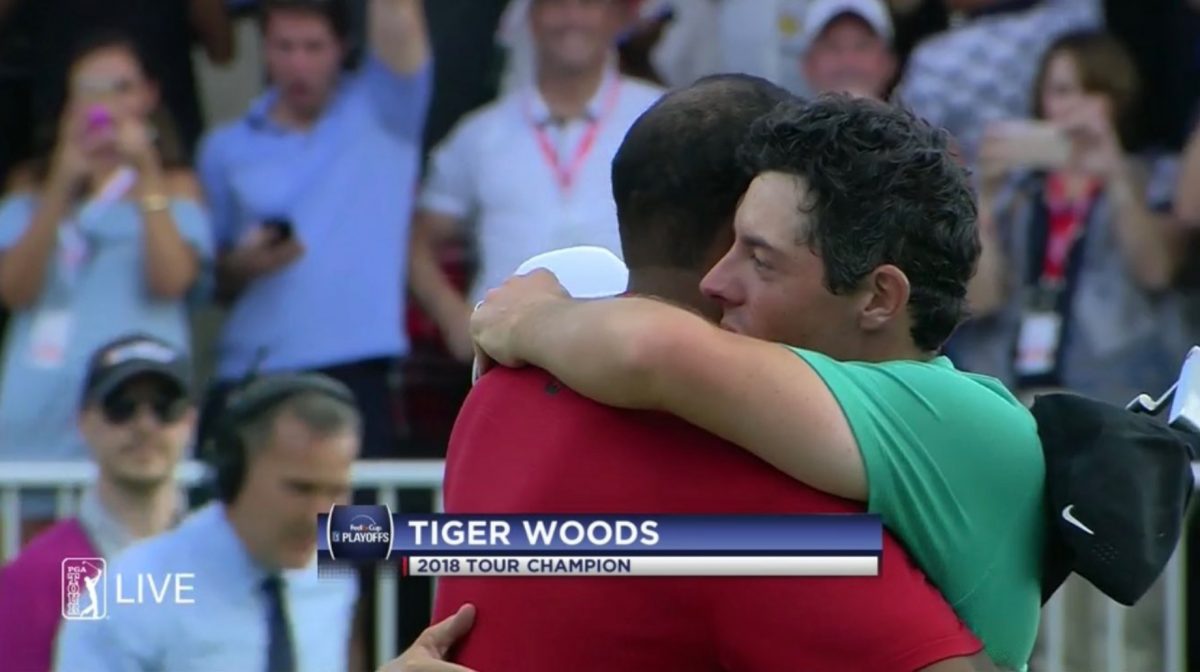 For the last couple of years, if you had asked my now six-year-old daughter who Tiger Woods is, she would have emphatically and angrily told you that he is "the man who broke my daddy's heart!" Partially because she was tipped off to this reality by her mother, and she was exactly right.
From 1994 until Thanksgiving on 2009, I was arguably the world's biggest Tiger Woods fan. As an avid tournament golfer, I saw Tiger not only as the most compelling athlete and personality that the sport had ever seen, but as a test case for the potential of the human species, which I had long ago determined was pathetically and fatally flawed.
I even created a now defunct (and mostly satirical) website www.TigerWoodsIsGod.com which was written about all over the world and was listed by Sports Illustrated as one of the three best things ever written about Tiger Woods. At one point, I even believed Woods, who, given his multi-ethnicity, was the perfect person to heal our racial divides, would be president of the United States (I figured he would run as a "South Park Republican" in 2024 or 2028).
Watching Tiger Woods play the game I loved better than any person ever had given me some the best memories of my life and helped get me through some really awful times, including just after my mother was killed in a car accident. While I never thought that he was remotely flawless, Tiger Woods gave me at least some cause to believe that humanity really had the ability to far exceed our fundamental frailties, all of which had made me come to despise humanity.
However, when everything came suddenly crashing down with that late-night infidelity-fueled Thanksgiving night car accident back in 2009, I immediately disbanded the website and actually started to actively root against Woods. I even, rather dramatically, heckled him at the 2010 U.S. Open. Though, partly because I was getting married just two weeks later, I made sure that my name was not attached to the news coverage of that event.
When he made a extraordinary comeback to be the PGA player of the year in 2013 I was extremely conflicted. I admired the athletic achievement, but the thrill, magic, and love was gone. In 2014, after his game left him again, I even "buried" the career of Tiger Woods in a cover story for the news weekly in Louisville, Kentucky where he was playing the PGA championship (and, looking very much finished as a player, missed the cut).
Since then, until this year, my prediction that we had seen the end of Tiger Woods as dominant sports figure appeared to be dead on. Woods himself, just last year (which included a horrifying DUI arrest and yet another back surgery) made it clear that even he thought that his career may be completely done.
But somehow, 2018, a year which has generally provided so little joy, has resulted in the greatest comeback in the modern history of golf, if not in all of sports. At 42 years old, with a new swing and the attitude of a man who had been given a fresh lease on life, this was a very different and far more relatable (even likeable?) Tiger Woods.
He was no longer a killing machine, but rather a bit damaged, with an imperfect game, even prone to a little bit of choking (how human!) But his results, while not ending in victory given where he was in recent history, were astonishing. Still, it wasn't until today, when he implausibly won the PGA Tour's tour championship in dominant fashion, that his truly remarkable second comeback had come full circle.
Tiger Woods, against all odds, is a winner once again. Yes, this was not a full-field event and there were certain other advantages he had which were unique to this tournament, but this was still very special, especially since he left no doubt about who the best player was.
He doesn't need the money and he can't get any more famous. His trophy case is already full beyond comprehension. But this win is probably more significant than any other of his career. For sure, like a child suddenly finding a favorite a toy that they were sure had been lost forever, this one brought more joy to his millions of fans (and maybe even some of his many detractors?) than any other title.
This wasn't just a win for golf, but for humanity, both of which are in dire need of victories. For if a person, fueled by nothing but pure pride and a desire to show his kids that their dad really was once something really special, can defeat all of his mental and physical demons to come all the way back from the depths from which Woods has emerged, there really might be hope of the rest of us dregs of humanity.
And thanks to Donald Trump destroying all the old rules of our politics, there may even still be a legitimate shot for Tiger's presidential run about which I once fantasized. Though we may have to push back the timing a bit. Tiger clearly has a lot more golf to play, and we are all the better for that happy reality.
John Ziegler hosts a weekly podcast focusing on news media issues and is documentary filmmaker. You can follow him on Twitter at @ZigManFreud  or email him at johnz@mediaite.com
This is an opinion piece. The views expressed in this article are those of just the author.