Book: Donald Trump Had 'Difficulty Achieving and Maintaining an Erection'
Book: Trump Had 'Difficulty Achieving and Maintaining an Erection'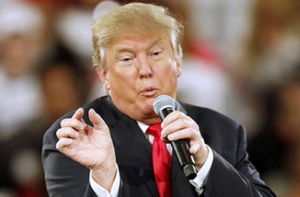 According to a 1993 biography Lost Tycoon: The Many Lives of Donald J. Trump, Donald Trump's then-wife Ivana Trump told her friends that Donald was skilled at erecting skyscrapers, but not much else.
It's a nugget that received little notice at the time, but was recently reported on by Politico when they brought together Trump's biographers to discuss the man.
Want to know where Trump inherited his entrepreneurial bent? Gwenda Blair traces it to his grandfather, who ran a series of restaurants in the Klondike that featured some of the best food in town, as well as private areas where 'sporting ladies' could 'entertain' miners. Who was really doing the deals that made Trump famous? Wayne Barrett will tell you the only signature that really mattered on a contract belonged to Trump's father, Fred. What broke up Trump's first marriage? Harry Hurt III writes that Ivana 'confided to female friends that Donald had difficulty achieving and maintaining an erection.'
The reason that tidbit received so little attention was because it was overshadowed by a even more serious charge in Hurt's book. The former Newsweek reporter was the first to reveal that Ivana gave a deposition claiming that Donald attacked and raped her while they were still married. Ivana later issued a statement through her lawyers saying that she had never been raped.
In his interview with Politico, Hurt revealed that the reason his publisher avoided a lawsuit was because of sheer incompetence on Donald's part.
Prior to the publication of my book, he and his lawyer, Jay Goldberg, came to scream at the folks at Norton, mainly about Ivana's divorce deposition… And finally Donald got so frustrated, he jumped up and he pulls a tape recorder out of his coat pocket. He said, 'I've been recording all this,' and our little lawyer looked at him, and Goldberg just turned like this napkin, white. 'You've been recording this and you didn't tell us? That's not right.' And I'm going, 'Yeah.'

They walked out and I said, 'He can't sue us now. He's not going to sue us because they just shot themselves in the foot.'
[Image via screengrab]
——
>>Follow Alex Griswold (@HashtagGriswold) on Twitter
Have a tip we should know? tips@mediaite.com