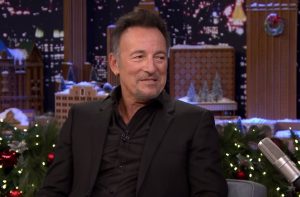 Bruce Springsteen typically isn't afraid to get political. He was a huge supporter of President Obama's 2008 campaign- he publicly endorsed him and performed at rallies. This year, he's been quiet, touring and working on his autobiography titled Born to Run. In a new Rolling Stone interview, however, he's making his opinions known. It's pretty much what you'd expect, and he's not holding back.
When asked what he thinks of the "Trump phenomenon," he said, "The republic is under siege by a moron, basically. The whole thing is tragic. Without overstating it, it's a tragedy for our democracy." He described Trump's ideas as "dangerous," citing rigged elections, white nationalism, and the alt-right movement among them. Springsteen also criticized him for not immediately disavowing David Duke.
He continued, trying to explain the GOP candidate's appeal. "Trump's thing is simple answers to very complex problems. Fallacious answers to very complex problems. And that can be very appealing."
The Boss also gave his thoughts on Trump's opponent. He said, "I like Hillary. I think she would be a very, very good president."
When asked whether he would involve himself in the campaign this time around, he said, "I don't know. I think you have a limited amount of impact as an entertainer, performer or musician. I feel what I've done was certainly worth doing. And I did it at the time because I felt the country was in crisis, which it certainly is right now… I would take it into consideration and see where it goes."
The rest of the interview will appear in the upcoming issue of Rolling Stone.
[image via screen grab/NBC]
Follow Dana Eisenberg on Twitter.
Have a tip we should know? tips@mediaite.com