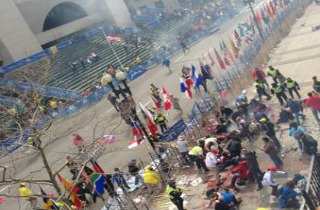 Tragically, Boston's restaurant community suffered heavy losses from Monday's terrorist attack on the Boston Marathon. CNN reported yesterday that not only was a restaurant on Boylston Street the "epicenter" of the attack, but also that a restaurant worker had been one of the three killed.
Krystie Campbell, 29, was a former general manager at the recently-closed Summer Shack in Hingham, MA, and was working at the time at Jimmy's Steer House in Arlington Heights. She had been attending the race with a friend, who is currently hospitalized with severe injuries.
"No words can describe how much she meant to all of us," Summer Shack said in a Facebook post. "She was an incredible woman, always full of energy and hard at work, but never too tired to share her love and a smile with everyone. She was an inspiration to all of us."
And while many restaurants along Boylston Street were severely damaged by the explosions (Eater has a running list), one restaurant in particular stands out: the second bomb exploded on the patio of Forum, injuring guests and waitstaff as well as runners, and severely damaging the restaurant.
In a message to its patrons, Forum announced that the restaurant would be closed indefinitely, "as we are now a crime scene." But despite their adversity, they confirmed that, indeed, Boston is tough as nails:
We'd like to thank the Boston Police, Fire Department and EMS workers who helped us piece together our collective confusion and tend to those injured. We'd also like to thank the members of our own staff and guests who went above and beyond, helping those injured….

Thank you all for the patronage during this first year of business. Boston Nightlife Ventures is proud to operate restaurants and bars in this beautiful city. We will prevail.

We love you Boston.
For more Boston coverage, see chefs checking in on other chefs and reacting to the tragedy on Twitter.
[CNN]
Have a tip we should know? tips@mediaite.com