Manuel Trevino Tells It Like It Is: 'Hardcore Celebrity Chefs Walk Around Like God's Gift'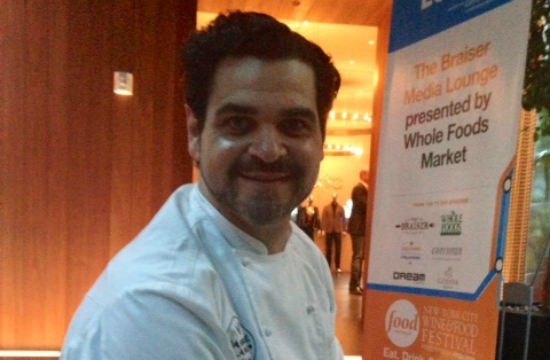 Manuel Trevino didn't have far to travel to come visit us at The Braiser Media Lounge this weekend at the New York Wine and Food Festival 2012. His restaurant Marble Lane is sunken three feet down in the lobby of the Dream Downtown Hotel, which hosted our lounge. We coaxed him out of the kitchen for a minute, and he came upstairs, pristine chef's jacket and all, to answer a few questions about his festival plans, his Top Chef legacy, and what it was like to rise through the ranks under Mario Batali. Check out our Q&A below.
The Braiser: Is there anyone you're particularly excited to meet at NYCWFF 2012?
No. All the big hardcore celebrity chefs just walk around like they're god's gift to this earth. And they'll stop to talk to [fans] but they don't really talk to us.
Is there an event you're really looking forward to?
I'm looking forward to Sandwich Showdown tomorrow. We were the Crowd Favorite last time. It wasn't a competition, but this year we're coming in as the reigning champs.
What else are you doing here?
We just finished the Grand Tasting. It went very well. I think we were the only people who were cooking. Everybody else was just like, putting cold food on a plate. I mean, some people were heating stuff up, but nobody was actually cooking. We took our calamari from the restaurant. 200 pounds of fresh calamari! We smoked up the whole place. We really did; it was no joke.
Do you treat this more as a chance to mingle with other chefs or is it about the fans for you?
It's work to me. I'm not that guy. This is about promoting the restaurant. Not about hanging out. It's not about people. It's fun and all, don't get me wrong, but it's not about that.
If you were going into a situation in which some evil government threatened to take away your restaurant unless you competed in a cooking contest of your choice, what would it be and how would you win? Kind of like The Hunger Games for celebrity chefs.
I plead the fifth, I was on Top Chef. I'll open another restaurant. No, thank you.
Are you over the TV chef thing?
I don't watch TV at all. People are like, "Hey did you see this episode of Top Chef?" I'm like, "Nope."
Is there anyone from your season of Top Chef you still keep in touch with?
Yeah, I mean, we're all pretty cordial. We see each other around, and, here especially, everybody comes through here. So I see Spike [Mendelsohn] a lot, I see Dale [Talde] a lot, Ryan Scott who's in San Francisco.
So you're a Mario Batali protege.
So to speak. I wouldn't coin me that, but yes.
What was it like working under him? What's his teaching style?
It was a very interesting experience working for the man, because I was classically French trained when I went to go work for him. And so Mario always said, "I'm going to deprogram you." And he did. He really opened my eyes to simplicity, and just putting three ingredients on a plate and letting them shine, with some help of extra virgin olive oil and some parmigiano-reggiano, of course.
If you could sneak into a room here at The Dream Downtown Hotel with anyone at NYCWFF 2012 for one hour, no questions asked about what went down, who would it be?
I always default to Giada [De Laurentiis].
Have a tip we should know? tips@mediaite.com