Take Bobby Flay's Stuff: Recently-Shuttered Mesa Grill Auctions Off All Its Things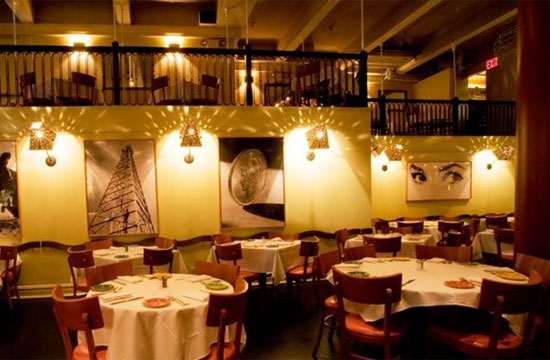 Thanks to the Rent Getting Too Damn High in New York City, celebrity chef Bobby Flay was forced to close his New York flagship restaurant, Mesa Grill, and served his last meal there this weekend. Though the closure of his first restaurant hardly foretells the end of his culinary empire, Bobbymandias still needs to offload a lot of stuff.
So if you're hoping to own a piece of Bobby Flay's life — perhaps as a trinket or souvenir, or to use in a spell to capture Bobby's soul and keep it on the shelf in your witch-hut — Mesa Grill's holding an everything-must-go auction today!
But what could you buy with your two pennies and a song? According to Amodeo Auctioneers's website, you could get the following, and exactly the following:
Jade 8 Burner Stove w Salamander, 3Ft Magic Kitchen Charcoal Grill, 2 Pitco Fryers, Jade 6 Burner Stove, Blodgett Half Size Electric Convection Oven, Hoshizaki Like Brand New Double Head 2000lb Ice Machine, H600 Hobart Square Leg 60Qt Mixer w Attachments, Hobart 20Qt Mixer, Coldelite LAB100B Countertop Batch Freezer, True SS 2 Dr Reachin Refrigerator,2Ft Majic Kitchen Charcoal Grill, 2 Traulsen 6Ft Refrigerated Lowboys, 10Ft Chef Line, True SS 1 Dr Reachin Freezer, True Glass 1 Dr Refrigerator, Globe SS Meat Slicer, Chest Freezers, 10×12 & 12×12 Walkin Refrigerators, 2 Head Espresso Machine, Espresso Coffee Grinder, NSF 3 Compartment Sink, Robot Coupe, Induction Cooker, Panini Grills, 10 SS Tables, 100 Fine Dining Rm Chairs, 40 Tables, 15 Bar Stools, 18Ft Bar & Back Bar, 3 Compartment NSF Sink, Ice Bins, Lg Line Heavy Duty Stainless Steel Gourmet Chefs Pots, Pans, Saute & Sauce Pans, SS Inserts & Hotel Pans, Utensils, Stock Pots, Trays, China Dinnerware, Flatware, Fine Glassware & Stemware, Glass Rack & Much More.
Did that make sense to you? Could you explain it to us? If so, go nuts on the bidding, starting today at Mesa Grill's former NYC location at 2:30 PM.
(Flay, for his part, will eventually put Mesa Grill in a place where the rent is not so damn high, which means that Mesa Grill will probably open next on Staten Island.)
[h/t Grub Street]
RELATED:
Alex Guarnaschelli on Her Mentor, Bobby Flay: 'He Gave Me a Real Kick in the Ass'
Bobby Flay Blasts Young Chefs: They Think 'A Tattoo And A Bottle Of Sriracha Equals Success.'
Last Call: All Hail Mayor Flay?
Have a tip we should know? tips@mediaite.com