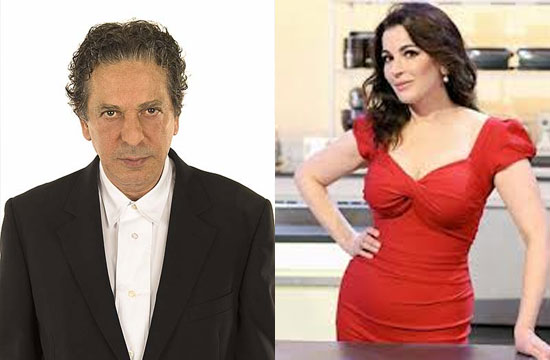 Yesterday, the Sunday Mirror published shocking photos in which domestic goddess Nigella Lawson appeared to be choked by her husband, advertising executive Charles Saatchi, while dining al fresco in London. The alarming photos, along with witness corroboration, compelled Scotland Yard to examine the incident which took place a week ago. Now, Saatchi has given a statement to the Evening-Standard. What compelled him to wrap his hands around his wife's neck in such a violent manner?
"We were sitting outside a restaurant having an intense debate about the children, and I held Nigella's neck repeatedly while attempting to emphasise my point," he told the paper. "There was no grip, it was a playful tiff."
We'd really like to know the kind of conversation that involves both children and choking. Also, let it be noted that Saatchi is the founder of renowned advertising firm Saatchi + Saatchi and, as such, should be able to come up with a less odd-sounding reason for choking one's wife in public.
"The pictures are horrific but give a far more drastic and violent impression of what took place," he continued. "Nigella's tears were because we both hate arguing, not because she had been hurt. We had made up by the time we were home. The paparazzi were congregated outside our house after the story broke yesterday morning, so I told Nigella to take the kids off till the dust settled."
The Evening-Standard could not get a statement from Lawson, but claim that she has no immediate plans to return home.
Have a tip we should know? tips@mediaite.com