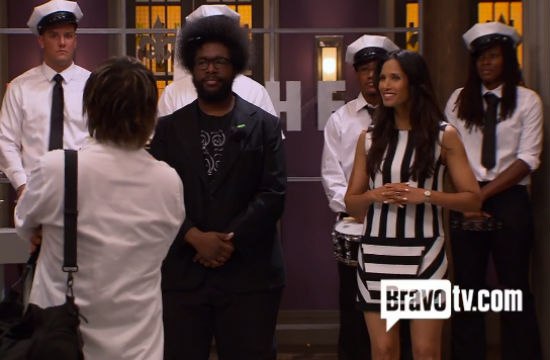 Ohhh, you guys, we almost made it through the Christmas Eve work day without any stories about racism popping up in our newsfeed. Sadly, Oh No They Didn't managed to snag this screenshot from Questlove's Instagram account, in which he asks his (Asian) manager while on tour in Japan, "Hey @dawnenglehart is it racist for me to write the Sour Tlain? #chipanesedownunder2013."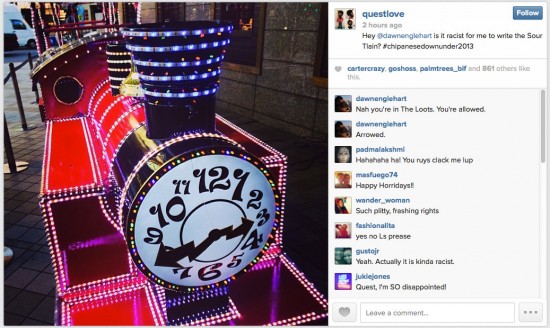 For what it's worth, Dawn Englehart responded, "Nah you're in The Loots. You're … Arrowed."
Padma Lakshmi, with whom Quest recently shared the screen in a Top Chef Quickfire chimed in, "Hahahaha ha! You ruys clack me lup," and after angry comments, replied, "and I get a yellow pass anyway."
Of course, the offending post has been deleted. We've reached out to PR for comment, because we're filled with the Christmas spirit. We'll keep you updated, because we're sure you are, too.
UPDATE (12/27 at 12:30 PM EST): A very sensitive Questlove responded and apologized for his offensive statements on Facebook, and has officially reached the gold standard for racism apologias. This is how it's done:
in hindsight, it's easy to see how my post was yet another example of the ugly, american flipping yet another ugly/racially/culturally insensitive script. so, let me make this abundantly clear….

THE ISH THAT I SAID WAS DUMB (PERIOD).

…i'm a human being and dumber yet, i'm a public figure. if you're lucky enough to be either of the aforementioned, then not only should one stay clear of saying or writing hurtful things, one should actively work against feeling comfortable, thinking hurtful thoughts. given that black culture consistently finds itself at the butt end of so many offensive "outsider" jokes, I should be way, way more sensitive (after all, who's zooming who). I for one, should never allow my cultural bias to take precedence over my "examined life" (clunkers be damned). i know the whole kinder and gentler thing reeks of a self serving political correctness, but eff it, it's "all me".
For the record, Padma Lakshmi has yet to come out with her own statement, sensitive or "#sorrynotsorry" otherwise.
[Mediaite]
RELATED:
Tonight in Food TV: Questlove Awkwardly Plugs His Now-Closed Restaurant on Top Chef
Last Call: ?uestlove Throws Shade At Radiohead Over Jiro Ono's Sushi
Have a tip we should know? tips@mediaite.com