WATCH: Top Chef New Orleans Contestants Revealed, Premiere Set for October 2nd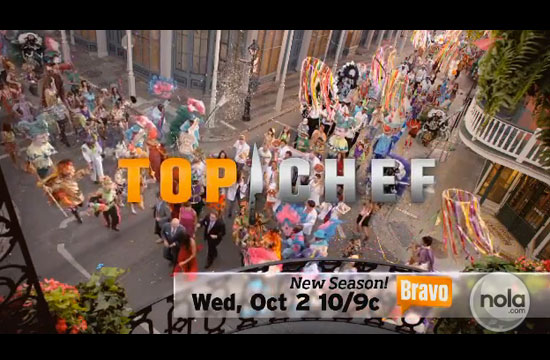 First things first: This Mardi Gras-themed video is the coolest promo Top Chef's ever done. Good job, guys.
Second, and most importantly: the show airs on October 2nd at 10 PM ET/CT.
Third: while Padma's Picks will see Padma Lakshmi select her favorite chef from New Orleans to compete in the show, Bravo is slowly releasing the names of this year's competitors for the title of the Eleventh Top Chef. Thus, today we're only getting — oh wow — six outsider chefs: Stephanie Cmar of Boston, Jason Cichonski and Nick Elmi of Philadelphia, and Patricia Vega, Janine Booth and Bene Bartolotta of New York, with the rest to be announced in the next two days. Fun fact: Bartolotta is also Odette Fada's sous chef on this season of Top Chef Masters! (Bios can be found at the Times-Picayune.Also, sorry, Los Angeles.)
Fourth: We called Chef director Jon Favreau and lobster enthusiast Eddie Huang showing up this season, but other non-chef guest stars include Anthony Mackie, Questlove, and Lea Michele. Chefs include David Chang, Jacques Pepin, and a slew of New Orleans stars: chefs John Besh, Leah Chase, and Paul Prudhomme, as well as musicians Kermit Ruffins and Dr. John.
Fifth: Oh just watch the video already, where your favorite judges (Tom Colicchio, Hugh Acheson, Gail Simmons, and Emeril Lagasse) dance like hyper people at Mardi Gras.
RELATED:
PHOTO: What's Eddie Huang Doing On The Set Of Top Chef New Orleans?
WATCH: Padma Lakshmi Personally Chooses Top Chef-testants For New Bravo Webseries
Gail Simmons Won't Even Say One Sentence About Top Chef New Orleans
Have a tip we should know? tips@mediaite.com