Jim Barrett, The Man Responsible For Making American Wine Famous, Dies Of 'A Life Well Lived'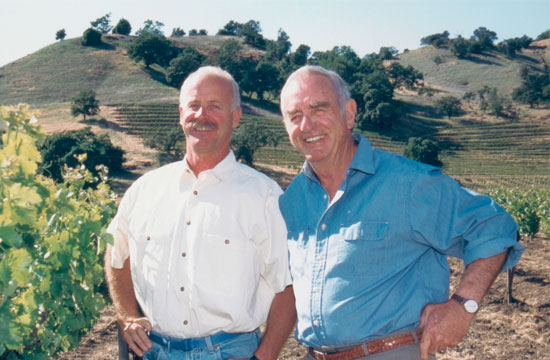 Not many winemakers become the subject of a book and a movie starring Alan Rickman, but Jim Barrett (above, right, with his son Bo), who died yesterday at the age of 86, had a compelling accomplishment behind the story: in 1973, his American chardonnay won the famous blind wine tasting known as the Judgement of Paris, shocking the international wine establishment. (That's a big deal.)
The New York Times reports that Barrett, the the proprietor of Chateau Montelena in Napa Valley, had continued making wine well into his 80's, and died of one of the best reasons ever, according to his son Bo: "a life well lived."
As one of the very first winemakers in the then-unknown Napa Valley, Barrett entered his chardonnay in the Judgement of Paris in the hopes that he would gain enough recognition (and cashflow) to eventually develop a cabernet sauvignon. However, to the shock of the world, the chardonnay won:
 At the Paris tasting, a celebrated, one-time event organized by a British wine merchant, a group of French judges picked it as the best white wine, over several well-known white Burgundies, helping to win recognition for the burgeoning California wine industry….Montelena eventually became best known for its long-lived, structured cabernet. Along with Heitz Wine Cellars, Mayacamas Vineyards, the Robert Mondavi Winery and Stag's Leap Wine Cellars (another winner at the Paris tasting), it was among Napa Valley's select…
Thank you, Jim Barrett, for not only raising Napa Valley out of the dust (figuratively) into prominence.
[NYT]
Have a tip we should know? tips@mediaite.com