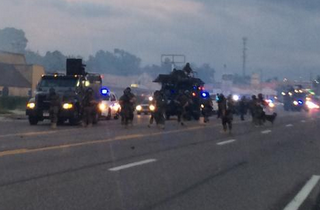 Two police officers were seriously wounded by gunfire outside the Ferguson Police Department Wednesday night, just the latest violence to roil the town since the fatal shooting of unarmed teenager Michael Brown by Ferguson police officer Darren Wilson.
Per the St. Louis Dispatch, the two police officers were reportedly shot next to a dwindling group of protestors, some of whom were demanding more acton that the series of resignations in Ferguson. St. Louis County Police Chief Jon Belmar said the officers were targeted and that three to four gunshots were fired "parallel to the ground" from about 125 yards away. Belmar believed the weapon to have been a pistol.
"We're lucky by God's grace that we didn't lose those two officers last night," Belmar said during a later press conference. "We could have buried two police officers next week because of this."
UPDATE 11:52 a.m. EST:
St. Louis County police tell me both officers shot last night at Ferguson PD have been treated and released from the hospital.

— Matt Pearce (@mattdpearce) March 12, 2015
The officers were not from Ferguson PD, but from nearby cities. Both officers were hospitalized and reported to be in serious condition. Police do not have any suspects yet.
It is believed the helmet shield of one of the officers crucially deflected the bullet. The St. Louis Police Department posted photos from the scene on Facebook:
The shootings come months after the protests that followed Brown's death and then the grand jury decision not to indict Wilson, and one week after the Department of Justice's condemnation of the Ferguson Police Department as a racist collection agency. Ferguson Police Chief Thomas Jackson is rumored to be resigning.
Belmar said Wednesday night that it was only a matter of time until officers were injured in the course of policing the nightly protests.
"But I have said all along that we cannot sustain this forever without problems," he added. "That's not an indictment of everybody that's expressing their First Amendment rights but we have seen in law enforcement that this is a very, very dangerous environment for officers to work in regarding the amount of gunfire that we have experienced up there."
Blurry video posted to YouTube, apparently taken from a livestream of the protest, purports to show the moment the gunfire occurred. "Acknowledgement nine months ago would have kept that from happening," one person is heard to yell. Watch:
Update- 1:14 pm EST: President Obama tweeted out this comment on the shooting this afternoon:
Violence against police is unacceptable. Our prayers are with the officers in MO. Path to justice is one all of us must travel together. –bo

— The White House (@WhiteHouse) March 12, 2015
[Image via screengrab]
——
>> Follow Evan McMurry (@evanmcmurry) on Twitter
Have a tip we should know? tips@mediaite.com