3 Year-Old Boy Shoots And Kills Himself With Concealed Carry-Permitted Uncle's Gun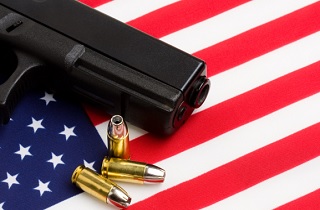 This spring continues to be a deadly one for children with guns. In Tampa, Florida, three year-old Jadarrius Speights found a 9mm handgun in his uncle's backpack, apparently shot himself, and died Tuesday night. The uncle, 29 year-old Jeffrey Walker, who authorities say holds a concealed weapons permit, was arrested on charges of culpable negligence.
The boy, identified by the Hillsborough County Sheriff's Office as Jadarrius Speights, was with his mother, father and uncle in Apartment 109 of the Avesta apartments at 13144 N 22nd St., just west of the University of South Florida.

The uncle, Jeffrey D. Walker, 29, had bought the 9mm gun at a gun shop and had left it in a backpack in a bedroom he shared with the boy, said sheriff's spokeswoman Debbie Carter.

Carter said investigators believe the child found the gun and accidentally shot himself.

Walker was arrested late Tuesday and faces a culpable negligence charge, the Sheriff's Office said. He holds a concealed weapons permit, authorities said.

The boy's parents, Jasmine Bell, 21, and Trentin Speights, 22, were in their bedroom at the time of the shooting.
With several other big stories crowding the news cycle, the recent epidemic of child-involved shootings has gotten very little attention from the national media, which took only brief notice of the shooting death of 2 year-old Caroline Sparks last week. The Times also flagged several other shootings this month, in addition to April's dizzying total. Angela Divin, a Florida 6 year-old, is recovering from being shot in the chest by her 13 year-old brother. In Alabama, an unidentified 4 year-old was shot in the head, possibly by his four year-old cousin, and is in critical condition.
Children are shooting themselves and other children at such a rapid pace, the circumstances are beginning to duplicate themselves. Jadarrius Speights wasn't even the first child to shoot himself, with a 9mm handgun, which didn't belong to a parent, that he found in a backpack, this month, or even the first three year-old to do so. Not a week ago, 3 year-old Darrien Nez shot and killed himself with a 9mm that he found in his grandmother's backpack.
Whatever your position on gun regulation, these stories clearly illustrate that something is wrong, that not enough is being done to prevent children from gaining access to guns. The media can play an important role, if they ever stand up and take notice.
(h/t TPM)
Have a tip we should know? tips@mediaite.com