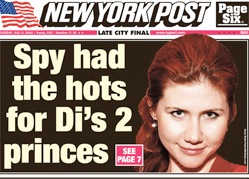 It is a measure of the times that the Russian Spy story has not completely dominated the headlines this last week. Twenty-five years ago a story like this would have swallowed the newscycle whole. As it is, the sexy Russian spy story has to compete for headline space with Afghanistan, the Gulf, Sarah Palin, an epic heatwave, and Lindsay Lohan.
And it just keeps getting better. The latest twist is that the U.S. government is apparently now in negotiations to trade these spies (though I feel like a more accurate term might be 'imposter' since it seems they were doing precious little actual spying) for spies they have imprisoned. From the New York Times:
The mother of a Russian scientist convicted of spying for the United States said Wednesday that her son had been moved to Moscow from a penal colony in preparation for a possible trade involving the Russian spy suspects detained last month in the United States. American officials confirmed that discussions were taking place between Washington and Moscow about a possible exchange. But the officials, who would speak only on condition of anonymity, declined to give details and said no deal was likely to be completed on Wednesday. The scientist, Igor Sutyagin, was arrested in 1999 and accused of passing secrets about nuclear submarines and missile warning systems to a British company that prosecutors said was a front for the C.I.A.
It sounds like a movie synopsis. Whether for a film starring Brad Pitt or Seth Rogan remains to be seen. Meanwhile, according to the New York Post, Anna Chapman — aka the 'sexy Russian spy' — may have had her sights set on Princes William and Harry. Hard to imagine how this story could get any better but considering the way things have been unfolding chances are it will.
Have a tip we should know? tips@mediaite.com