Actor Wendell Pierce's Arrest For Battery Must Have Something To Do With Bernie and Hillary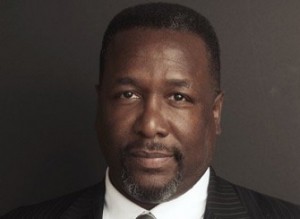 If you've been watching the Twitters for the last 24 hours or so, you probably know that actor Wendell Pierce, famous for his role as Detective Bunk Moreland in HBO's The Wire and a Hillary Clinton supporter, was arrested for simple battery on Saturday, booked on $1,000 bond, and released. Those are all the details that have been confirmed by authorities, or really any source with something akin to a real attribution. If you're wondering why it's important to mention that Pierce is a Hillary Clinton supporter, it's because this is the report that people have been passing around about the incident:
"The Wire" star Wendell Pierce was arrested Saturday after allegedly physically assaulting a woman supporting Bernie Sanders.

Sources at the Loews Hotel in Atlanta tell us the actor struck up a convo with the woman and her boyfriend at around 3:30 AM. The talk turned political and Wendell — a big Hillary Clinton supporter — got upset when the woman declared her support for Bernie.

We're told Wendell — who played Supreme Court Justice Clarence Thomas in the HBO drama, "Confirmation" — became enraged, pushed the boyfriend and then went after his girlfriend … grabbing her hair and smacking her in the head.
That's gossip website TMZ's account, which they were "told" by "sources" who were "at" the hotel. But The Daily Beast has "sources" too:
Sources contacted by The Daily Beast disputed the described events, saying the woman stepped into an altercation already under way.
If you're wondering which version to believe, ask yourself why it is that CNN's report on the incident doesn't mention any of these supposed details.
So far, it's the TMZ version with the scary black Hillary supporter smacking around a woman that has gained traction online, and while neither version has the benefit of anything like solid reporting, or even laxative-aided reporting, only one of them creates harm. As attractive as these narratives are for political junkies, for all we know the guy insulted Pierce's mom.
Have a tip we should know? tips@mediaite.com