Hillary Clinton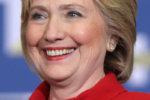 Hillary Rodham Clinton is an American politician, diplomat, and lawyer. She was born on October 26, 1947 in Chicago, Illinois. Her husband, Bill Clinton, was the 42nd President of the United States and she was First Lady from 1993 to 2001. Hillary ran for president against Donald Trump in the 2016 elections. She previously served a United States Senator for New York from 2001-2009 and the Secretary of State from 2009-2013.
Hillary Clinton Q&A
Where did Hillary Clinton go to college?
Clinton graduated from Wellesley College in 1969 and earned a Juris Doctor from Yale Law School in 1973.
How many times has Hillary Clinton run for president?
She ran for office in both 2008 and 2016.
Hillary Clinton Noteworthy Stories
June 19, 2019
Hillary Clinton blasts Trump on Twitter, calling his relaunch 'InfoWars'
October 2, 2018
Hillary Clinton calls Trump racist, sexist and Islamophobic.
Latest Hillary Clinton Stories