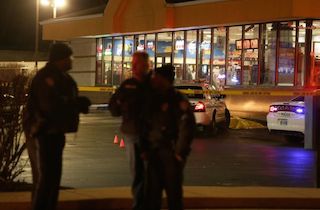 A man identified by witnesses as 18-year-old Antonio Martin was shot and killed by St. Louis police late Tuesday night in Berkeley, MO, a town near Ferguson, which has been roiled by the shooting death of teenager Michael Brown.
According to police an officer stopped at a Mobil gas station for a "routine business check." When he approached two men while carrying a flashlight, one of the men pulled a handgun.
"Fearing for his life, the Berkeley Officer fired several shots, striking the subject, fatally wounding him," the police department's release said. Police say they recovered Martin's handgun at the scene.
Police have not identified the subject, but a woman at the scene named Toni Martin said she was his mother.
The second of the two subjects ran from the scene, according to authorities. Video was apparently obtained from the gas station's surveillance cameras and is expected to be released to the public shortly.
Protesters, still galvanized from the demonstrations following Brown's death and the subsequent grand jury decision, gathered at the Mobil and appeared to clash with police:
The St. Louis County PD's release is embedded below:
Some context on Berkeley:
#Berkeley is just west of Ferguson, about half its size, lacks a nabe like the leafy #Ferguson area of large old homes, has had black mayors

— Jeff Smith (@JeffSmithMO) December 24, 2014
For non-StL ppl: Berkeley's approx a decade ahead of Ferguson re: racial transition – about 80:15 B:W. Same school dstrct, similar struggles

— Jeff Smith (@JeffSmithMO) December 24, 2014
[h/t St. Louis Today]
[Image via St. Louis Today]
——
>> Follow Evan McMurry (@evanmcmurry) on Twitter
Have a tip we should know? [email protected]