Alleged Victim of Dennis Hastert Sexual Abuse Is Suing for the Rest of the Hush Money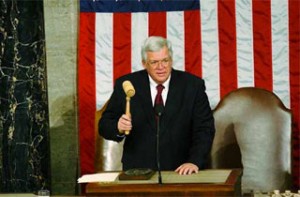 One of Dennis Hastert's sexual abuse victims is suing the former House Speaker for the remainder of the hush money that was promised to him.
Hastert was indicted last May for lying to federal agents and attempting to conceal the purpose of several large cash withdrawals from 2010 to 2014. The indictment alleged that Hastert paid $1.7 million, of a promised $3.5 million, to an unnamed individual in order to compensate for, and keep quiet, "prior misconduct."
The person whom Hastert was paying off was identified only as "Individual A" in the indictment, and was later reported to be a man whom Hastert had known during his time as a high-school gym coach and teacher. Authorities later revealed that the "prior misconduct" referred to sexual abuse, and that Individual A was not the only victim.
That individual filed a lawsuit in Kendall County, Illinois last Thursday (under the name James Doe) alleging that Hastert sexually molested him when he was 14 years old. Hastert, then a wrestling coach at Yorkville High School, was escorting Doe on a trip to a summer wrestling camp when Hastert molested and abused Doe in the motel room that they were sharing alone, the complaint alleges.
The complaint notes that Hastert had agreed in 2008 to pay his victim the sum of $3.5 million "to compensate Doe for the trauma he suffered," but that when Hastert's financial activity became the target of a federal investigation in late 2014, the payments stopped. Doe is seeking the remainder of the agreed-upon money: $1.8 million.
Hastert filed a guilty plea for the charges in October; his sentence was expected to come down this week.
Have a tip we should know? tips@mediaite.com