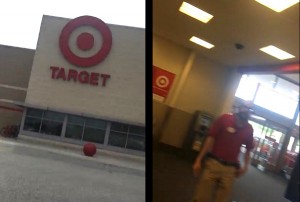 Retail giant Target has long been a target of conservative culture warriors, and with the recent controversy over transgender bathrooms, they're at it again. Last week, Target announced an inclusive restroom policy, and on Friday, a Florida man named Andy Park made a hidden-camera recording at a Target store in St. Petersburg in which he asks a man identified as an "AP guy" (asset protection) if he can use the ladies' room, because that's where he "feels comfortable," and the staffer tells him he can. The AP specialist, whose name is Gerard, tells Park that if any women express concerns, "they can come and we will speak to that."
At least so far, it appears no action has been taken against the employee, who was at the store as recently as Monday afternoon. When reached by telephone, AP Gerard told Mediaite "I'm not allowed to talk about that," and referred us to the corporate media relations department, which has not yet returned request for comment. Gerard's comments are being characterized as an indication that any woman who complained in that situation would be "spoken to," but the video doesn't actually show how such a complaint would be handled, only that the staffer would "speak to that."
Target's policy, explained last week in a press release, is as follows:
We believe that everyone—every team member, every guest, and every community—deserves to be protected from discrimination, and treated equally. Consistent with this belief, Target supports the federal Equality Act, which provides protections to LGBT individuals, and opposes action that enables discrimination.

In our stores, we demonstrate our commitment to an inclusive experience in many ways. Most relevant for the conversations currently underway, we welcome transgender team members and guests to use the restroom or fitting room facility that corresponds with their gender identity.

We regularly assess issues and consider many factors such as impact to our business, guests and team members. Given the specific questions these legislative proposals raised about how we manage our fitting rooms and restrooms, we felt it was important to state our position.

Everyone deserves to feel like they belong. And you'll always be accepted, respected and welcomed at Target.
Update: In response to our inquiry about this video, a Target spokesperson sent the following statement:
Thanks for reaching out.

We certainly respect that there are a wide variety of perspectives and opinions. As a company that firmly stands behind what it means to offer our team an inclusive place to work — and our guests an inclusive place to shop – we continue to believe that this is the right thing for Target.

Thanks!
Have a tip we should know? tips@mediaite.com