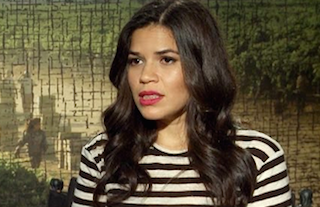 America Ferrera, the Latina actress best known for playing Ugly Betty has an important message for Donald Trump: "Thank you."
In an open letter published on The Huffington Post Thursday morning, Ferrera decided not to spend her time "chastising" the GOP presidential candidate for his "incredibly ignorant and racist" comments about Mexicans. Instead, she chose to look on the bright side by predicting the galvanizing force those words will have on Latino voters.
She wrote:
You see, what you just did with your straight talk was send more Latino voters to the polls than several registration rallies combined! Thank you for that. Here we are pounding the pavement to get American Latinos to the polls, while your tactic proves most effective. Remarks like yours will serve brilliantly to energize Latino voters and increase turnout on election day against you and any other candidate who runs on a platform of hateful rhetoric.
Because Latinos are the "largest, youngest and fastest-growing constituency in the United States of America," Ferrera informed Trump that his comments — and ones like them — are likely to have a devastating impact on whoever the Republican nominee for president ends up being.
"You, Mr. Trump, are living in an outdated fantasy of a bigoted America," she continued, citing "marriage equality, universal healthcare, removing of the confederate flag" as indicative milestones from just this past week. "That is why racist remarks that play to extremists won't change the tide, no matter how hard you try. They will only serve to rally more Latino voters to the polls. Your negativity and your poorly thought out speech ignited a fire in our community. Thank you, Mr. Trump!"
Read the full letter at huffingtonpost.com.
[Photo via screengrab]
— —
>> Follow Matt Wilstein (@TheMattWilstein) on Twitter
Have a tip we should know? [email protected]