An Uninvited Buddy Roemer Plans To Answer GOP Debate Questions Tonight Via Twitter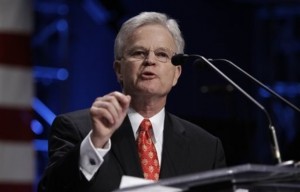 Former Louisiana Governor and Congressman Buddy Roemer has been caught in a vicious cycle in his bid for the GOP nomination: he hasn't been invited to debates because his poll numbers are low, but it's tough to raise his poll numbers without the benefit of the national exposure offered by debates. Instead of whining about it and stomping his feet, however, Roemer has hit on a unique way of having his voice heard: he'll answer all the questions asked to the candidates in tonight's Republican debate, in real time, on his Twitter account (@buddyroemer).
"We answer the question before the candidate does," Roemer, who has Tweeted his debate answers in previous contests, tells Mediaite. "Poor Rick Perry, in his three ways to cut spending — we announced the three departments we would cut before he did. It was kind of funny! And then it was sad to watch him because I don't like that to happen to anybody. I like to laugh with people, not at people."
Roemer actually saw some significant gains in New Hampshire's latest polls. In the 7NEWS/Suffolk University Poll, which ended on Dec. 13, Roemer's 2% helped him pass Rick Perry, tie Rick Santorum, and landed him just one percentage point behind Michele Bachmann. His support doubled from the last poll, and he expects it to continue to rise as he spends more time in the Granite State.
And while Roemer won't be on stage tonight in Iowa, even as his numbers start to show some signs of life (keep in mind that he was polling at two percent of the vote with 45 days to go when he ran for Governor of Louisiana in 1987, before rallying to victory), he'll be the only candidate for President whose answers you can personally follow up on moments after the questions are asked.

(Photo credit: AP/Charlie Neibergall)
Have a tip we should know? tips@mediaite.com