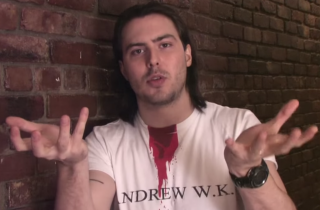 Every time we write about Andrew W.K., we mention he is a man of many trades: Hard rocker, party enthusiast, Brony icon, motivational speaker, maybe-but-not-really cultural ambassador to Bahrain, and advice columnist.
And now we can add something else to that list: Radio host on Glenn Beck's TheBlaze radio network.
Beck's company announced on Tuesday that the "Party Hard" rocker will host a two-hour weekend program, beginning Saturday May 2, 2015. The weekly show, titled America W.K., will feature "a raw and penetrating discussion of what it is to be alive – meaning, motivation, mind set, and making dreams come true, all included in a celebration of life itself – and all with a positive and honest outlook. Andrew will also field questions and input from the audience, adding an engaging interactive component," according to a press release.
"When Glenn asked me to do my own radio show on TheBlaze, I was shocked but excited, as I knew he would allow me the unrestrained freedom to say exactly what I wanted," Andrew W.K. said in a statement. "I'm very dedicated to exploring and learning from different people in different places, and always with an open heart. If people never went outside their own box, life would be boring. After all, why would I only want to talk with people who already think exactly like me?"
And Beck had this to say: "My relationship with Andrew W.K. is a perfect example of how two people can come together on what unites us, and become strange bedfellows. He is open minded, honest, loves his fellow man even though he may disagree with him, and is a natural entertainer. Our mutual audiences have already begun to find commonalities."
K, now time to party:
Have a tip we should know? tips@mediaite.com