Anthony Weiner Admits Roughly How Many Women He's Had Online Relationships With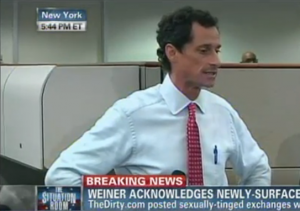 For the still-curious among us (basically everyone), Anthony Weiner today kind of, sort of confirmed the number of women he's pretty sure he's engaged in online relationships with. Weiner has been hounded by the press ever since the newest revelations about his continued sexting, even after his resignation. Weiner told reporters today he didn't have a "specific number" for them, then admitted it was probably "six to ten, I suppose," and he's darn positive only three of those happened after he resigned in disgrace two years ago.
RELATED: Mediaite's Joe Concha Stomps Weiner On CNN: Sexting While Wife Is Pregnant 'Whole New Level Of Perversion'
According to POLITICO, Weiner made these remarks "after volunteering at a soup kitchen in an orthodox Jewish section of Brooklyn," though given how one woman was overheard muttering that Weiner is a "piece of dirt," efforts like this may not be enough to redeem himself in the eyes of New Yorkers.
Weiner told reporters that he cannot say with absolute certainty how many women might also come out to allege their own inappropriate relationships with him.
"There are a few. I don't have a specific number for you," Weiner said. "There are people I've had exchanges with that are completely appropriate, and that there are no pictures or illicit texts or anything. Now if those people want to say they don't like the exchanges we had either, I don't know where to put them."
But when he was pushed further about the precise number, Weiner insisted it was not "dozens and dozens," suggesting it was "six to ten, I suppose." Directly asked how many occurred after his resignation, Weiner said, "I don't believe I had any more than three."
Meanwhile, a new poll shows that Weiner has descended rapidly since last month, now trailing Democratic rival Christine Quinn by 9 percent.
—–
Follow Josh Feldman on Twitter: @feldmaniac
Have a tip we should know? tips@mediaite.com
Josh Feldman - Senior Editor