Arkansas Campaign Manager's Cat Is Murdered, 'Liberal' Written On Body
Campaign Manager's Cat Is Murdered, 'Liberal' Written On Body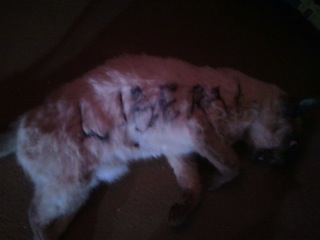 It's already after 11am in parts of the country so you should have reasons to hate all of humanity by now. If you don't, however, let me help out with one of the most repulsive stories we've seen in some time. Over in the Third Congressional District of Arkansas, Democrat Ken Alden is running against the incumbent, Republican Steve Womack. However, it would appear that some people aren't taking too kindly to Alden's campaign, as his campaign manager, Jake Burris, returned home with his family Sunday night to find his children's pet cat murdered. Someone had written the word "LIBERAL" on its body in black marker.
The repulsive act was first reported by the blog Blue Arkansas, who confirmed the incident with the local police. They got quotes from Burris and Alden calling the act "terrorism" and saying that they were taking it very seriously.
"I asked Aden for a comment on the record:

'This is sickening. To kill a child's pet…I'm at a loss for words…I've seen the best and the worst of humanity, but this is something else.'

Both Ken and Jake though made it clear that they weren't going to back down on the campaign trail, both agreeing that caving to this kind of behavior would only make things worse.

'I've got a gun and I know how to use it,' Jake said. 'If I have to protect my kids I'll do it without hesitation.'"
Well, we can all see exactly how this is going to go now, right? All of our nation's media figures will be frothing at the mouth accusing the other side of using inflammatory language. They and our politicians will all self-righteously claim to clean up their act for the greater good. Then, in a few weeks, everyone will go right back to accusing each other of being socialist racists who want to commit class warfare. And that will go on until the next living thing is murdered. And, so, the Great Cycle of Hate that keeps our political world moving will spin forever onward.
Don't believe me? Well, that's probably just because you hate America, you wingnut hippie neocon scum.
Read the full news release from Alden's campaign below and watch a CNN interview with Alden below:
KEN ADEN NEWS RELEASE

RUSSELLVILLE—On the heels of a weekend of positive news coverage for the campaign of Democratic Congressional candidate Ken Aden, Aden's campaign manager returned home to find his family pet slaughtered, with the word "liberal" painted on the animal's corpse.
The Russellville Police Department is investigating, and a report will be made to the Federal Bureau of Investigation Monday morning.

Jacob Burris, who has served as Aden's campaign manager since late October, arrived home with his family Sunday evening, and his four children discovered the gruesome scene as they exited the family vehicle to enter their home.

The family pet, an adult, mixed-breed Siamese cat, had one side of its head bashed in to the point the cat's eyeball was barely hanging from its socket. The perpetrators scrawled "liberal" across the cat's body and left it on the doorstep of Burris' house.

"To kill a child's pet is just unconscionable," Aden said Monday morning. "As a former combat soldier, I've seen the best of humanity and the worst of humanity. Whoever did this is definitely part of the worst of humanity," he said.

"It is one thing to engage in civil political discourse, and for Republicans and Democrats to disagree with each other, which is an expected part of the political process. Taking it to this level is beyond unacceptable," Aden said.

While the campaign between Aden and incumbent Congressman Steve Womack has heated up in recent months, Aden said they did not believe the Womack campaign to be responsible. "Although we have certainly disagreed and engaged in a great deal of civil discourse, I do not believe in any way that Congressman Womack or his campaign had anything to do with this incident," Aden said. He noted that, before Christmas, KRUM Radio, a station owned by Womack's father, actually promoted a toy drive held by Aden's campaign for children in the Third District. "We suspect this is the action of a rogue individual or group of individuals who are the type of folks that stoop to the lowest common denominator instead of engaging in civil political discourse," Aden said. "It is unfortunate this has occurred, and we will await the results of the police and federal investigations," Aden said.

WOMACK CAMPAIGN STATEMENT

The thought of brutalizing any animal to make a political statement, no matter what that statement is, is beyond any standard of decency," he told The Huffington Post. "The person or people, if there was more than one, who are responsible — they definitely need to be held accountable to the fullest extent of the law. There should be no tolerance in our political discussion here in this nation for this kind of behavior."
Have a tip we should know? tips@mediaite.com