Ashton Kutcher And Demi Moore's New Anti-Sex Trafficking PSAs Are Supposed To Be Funny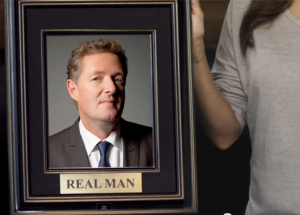 Ashton Kutcher and Demi Moore, along with all of their many, many, many celebrity friends, would like to gently encourage you not to buy girls (In case you weren't aware: Sex trafficking is pretty bad.) by letting know that, if you do, you are a mere husk of a man, your masculinity laying in tatters like to many used bottles of Axe body spray. Such is the aim of Kutcher and Moore's new campaign against sex trafficking, which consists of various PSAs featuring celebrities like Eva Longoria and Justin Timberlake, and media types like Pete Cashmore, Robert Scoble, and Piers Morgan.
So what do real men do?
Apparently, they do things like wander through parking lots shirtless:
…and give Oscar-caliber performances:
…and even act in as obnoxious a fashion as possible:
It's definitely an interesting choice on Kutcher and Moore's parts to not only avoid highlighting the damage sex trafficking does to the young women (and men) who are affected by this practice, but to attempt to make their PSAs funny. It makes us wonder who these ads are attempting to target, and what they hope to accomplish by doing so. We're not so sure a lot of 18-35 year old men watching Adult Swim in their American Apparel hoodies are the same guys wittingly participating in sex trafficking. And we have an inkling that they're already aware that selling girls for sex is "pretty bad." And they're probably not huge Ashton Kutcher fans to begin with.
h/t Salon
Have a tip we should know? tips@mediaite.com