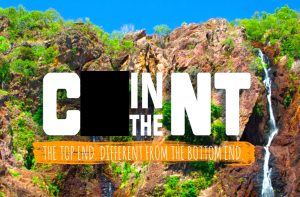 Earlier this year, a mysterious tourism campaign popped up online. It encouraged tourists to visit Australia's Northern Territory. While its message, "See you in the NT" sounds innocent enough to the ear, they've taken some creative licensing with the spelling of the words and its campaign images and merchandise are very much not. Its slogan also is "The top end. Different from the bottom end."
Reactions were mixed when the campaign first appeared. Some social media users called it an "embarrassment." Others called it "clever," and decided they were going to make travel plans based on it.
On CU in the NT's social media accounts, they post beautiful pictures of the Northern Territory.
And photos of their merch, strategically laid out.
Now, the Advertising Standards Bureau in Australia has ruled the campaign obscene, a ruling the official tourism bureau in the area welcomes, according to ABC Darwin. "The advertisement had been clearly designed to highlight letters to form a strong reference to the word 'c***,'" they said. "The board noted community standards research into language had shown that the community considered the 'C-word' to be obscene and not appropriate in advertising in any form."
As of now, the campaign's social media accounts are still active.
[featured image via Instagram/@cuinnt]
Have a tip we should know? tips@mediaite.com