Baltimore Protesters Continue to Loot, Set Fires and Clash with Police – LIVE UPDATES
[Note: Mediaite will continue to update this post. Check back for new information, and watch the live streams below.]
Protests in Baltimore over the death of Freddie Gray in police custody earlier this month have been escalating in recent days, and became increasingly violent on Monday afternoon. Reporters on the ground have pointed out that the latest chaos in the city is not related to the Freddie Gray protests, but instead amounts to random acts of violence and looting.
Over the weekend, demonstrators crowded around Camden Yards, the home ballpark for the Baltimore Orioles, which caused law enforcement officials to, at one point, prevent people from leaving the ballpark until protests dispersed. The Orioles are supposed to play the Chicago White Sox on Monday evening at 7 p.m. ET. [UPDATE: The game has been postponed, per the Orioles Twitter account.]
This afternoon, news cameras were rolling as a group of at least 30 people swarmed a police cruiser, smashing windows and jumping on top of the car. Over the weekend, a reporter was attacked and robbed by a group of demonstrators, while a photojournalist was roughed up and knocked to the ground by a group of police officers. Fox News anchor Shepard Smith likened these conflicts to those between the Palestinians and Israelis.
As of this writing, cars are being set on fire and local stores are being looted and vandalized. Maryland Gov. Larry Hogan has put the National Guard on alert as nightfall approaches in the city: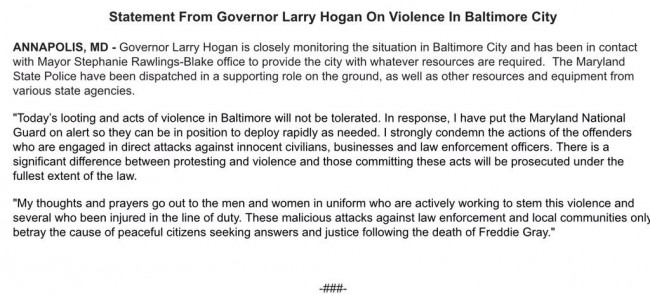 The White House is also on alert:
WH says Pres Obama spoke today about the situation in Baltimore with Mayor Stephanie Rawlings-Blake to offer "assistance as needed."

— Mark Knoller (@markknoller) April 27, 2015
UPDATE — 7:02 p.m. ET: Hogan has declared a state of emergency and has activated the National Guard, according to a statement released by his office.
UPDATE — 8:21 p.m. ET: At a press conference, Baltimore Mayor Stephanie Rawlings-Blake called the rioters "thugs" and announced the establishment of a curfew.
Check out some photos and tweets from reporters below:
Police van from transit authority on fire at Pennsylvania and North avenues pic.twitter.com/lUKTHJaWiF

— Peter Hermann (@phscoop) April 27, 2015
Vehicles engulfed. Looters still running around with items. @wbaltv11 pic.twitter.com/ex6RUQJplG

— Kai Reed (@KaiReedTV) April 27, 2015
Downtown now #freddiegray #BaltimoreProtests pic.twitter.com/P24HmaSGbd

— Kaitlin Newman (@KaitlinObscura) April 27, 2015
People looking on from the front stoop as police are holding here at N. Monroe and Bryant in NW #Baltimore pic.twitter.com/rN90c4dluN

— Colin Campbell (@cmcampbell6) April 27, 2015
Smoke coming from the CVS on North and Pennsylvania aves — you can see it from down the street. pic.twitter.com/o93dXBU5Hk

— Colin Campbell (@cmcampbell6) April 27, 2015
Improvised Molotov cocktail? pic.twitter.com/ZrBOzsf5Hb

— Ben Jacobs (@Bencjacobs) April 27, 2015
Arrested teen being put in paddywagon pic.twitter.com/1Csmu3kg9U

— Ben Jacobs (@Bencjacobs) April 27, 2015
Fans can enter Camden Yards at Gate H but there are Baltimore Police officers stationed here in riot gear. #Orioles pic.twitter.com/URy7gYDqVs

— Eduardo A. Encina (@EddieInTheYard) April 27, 2015
VIDEO: #Baltimore police car on fire – http://t.co/f72eMX4jky pic.twitter.com/DzF4av7Oym

— Baltimore Sun Video (@BaltSunVid) April 27, 2015
Shot of 7-11 at North Charles and Saratoga. Garbage can thrown through front door. pic.twitter.com/DVLf50gWmZ

— Brandon Weigel (@brandon_weigel) April 27, 2015
Intersection of W North and Pennsylvania. Couple of stores have been hit. pic.twitter.com/BmNBRn6lTR

— Joel D. Anderson (@byjoelanderson) April 27, 2015
Ground shot: Car up in flames as group poses for pics in front of it. Appears to be civilian car. @cbsbaltimore pic.twitter.com/jMpGD4966u

— Megan Viviano (@megganphone) April 27, 2015
Crowd breaking into convenience store pic.twitter.com/VWh66k5vlU

— Ben Jacobs (@Bencjacobs) April 27, 2015
Police handcuffed two men near Inner Harbor after commanding them to get their hands out of their pockets. pic.twitter.com/S3Ix0TO2oV

— Lynh Bui (@ByLynhBui) April 27, 2015
A man tries to see if block down the street is open. Told it's closed for "operational necessity." pic.twitter.com/wT4JNDX6HI

— Brandon Weigel (@brandon_weigel) April 27, 2015
Car and work van on fire in Baltimore. This is about 50 feet from burning CVS. No civility to be seen @ABC7News pic.twitter.com/BUxx4g2g3g

— Kevin Lewis (@KevinLewisABC7) April 27, 2015
CVS on fire. Building above is senior citizen housing pic.twitter.com/ob69QcSWNk

— Ben Jacobs (@Bencjacobs) April 27, 2015
totally wrecked cop car pic.twitter.com/AogKXjIqkQ

— Rachel Cohen (@rmc031) April 27, 2015
Nothing but smoke here on North. Can't see in front of your face. Apparently CVS is on fire. @wbaltv11 pic.twitter.com/XbIudgOINu

— Kai Reed (@KaiReedTV) April 27, 2015
"Want a souvenir?" pic.twitter.com/r0F5wIEkgn

— Rachel Cohen (@rmc031) April 27, 2015
NOW. I'm @ Penn. Ave & W. North Ave. CVS is on fire. People throw bottles. Tense situation @nbcwashington VIDEO pic.twitter.com/wwhNcddArH

— Shomari Stone (@shomaristone) April 27, 2015
What's left of a city police car here on North Ave near the destroyed CVS pic.twitter.com/4tVBrOpCJv

— Colin Campbell (@cmcampbell6) April 27, 2015
Up the block at North & Fulton, EZ Mart was raided. Chaos ensued as a tactical vehicle tried to ride through. pic.twitter.com/98yLK2903i

— Colin Campbell (@cmcampbell6) April 27, 2015
North ave. @wbaltv11 pic.twitter.com/0nYmyvYO5t

— Kai Reed (@KaiReedTV) April 27, 2015
Police searching and questioning 3 young men downtown. pic.twitter.com/9sNovYpI8J

— Jayne Miller (@jemillerwbal) April 27, 2015
Amor trucks & big ass guns I haven't seen since ferguson Baltimore. #FreddieGray http://t.co/eHcu2kq1Zn pic.twitter.com/kcFvRtjx2A

— ShordeeDooWhop (@Nettaaaaaaaa) April 27, 2015
At Pennsylvania and Retreat. PG County van pic.twitter.com/8xz1MRQb76

— Baynard Woods (@baynardwoods) April 27, 2015
Outside Baltimore City Hall right now pic.twitter.com/U7pNqxSBTH

— Jessica Anderson (@janders5) April 27, 2015
VIDEO: This was the scene earlier as a group looted another business. #BaltimoreRiots pic.twitter.com/cRQEpk6MgT

— Brandon Longo (@brandonlongo) April 27, 2015
On Reisterstown Rd pic.twitter.com/kefeZThNxg

— Brad Bell (@ABC7Brad) April 27, 2015
Our @CCTV_America cameraman was just attacked by protestors and his camera stolen. #FreddyGray pic.twitter.com/STR6e9LowT

— jim spellman (@jimspellmanTV) April 27, 2015
Watch live stream below, via CBS Baltimore:
Watch live stream below, via NBC News:
[Image via screengrab]
— —
>>Follow Andrew Desiderio (@forza_desiderio) on Twitter
Have a tip we should know? tips@mediaite.com