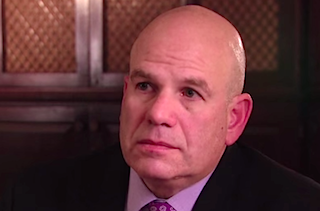 As destructive protests continue to rage in Baltimore Monday evening, following the death of Freddie Gray while in police custody, one voice who will forever be associated with that city has spoken out against the violence.
On his personal blog, David Simon, the former Baltimore Sun reporter who created HBO's The Wire, who has been highly critical of Baltimore police over the years, has issued a call for peace.
After writing that "there is a lot to be argued, debated, addressed" and that "changes are necessary and voices need to be heard," Simon issued this message to those rioting in the streets:
But now — in this moment — the anger and the selfishness and the brutality of those claiming the right to violence in Freddie Gray's name needs to cease. There was real power and potential in the peaceful protests that spoke in Mr. Gray's name initially, and there was real unity at his homegoing today. But this, now, in the streets is an affront to that man's memory and a dimunition of the absolute moral lesson of his meaningless and unnecessary death.

If you can't seek redress and demand reform without a brick in your hand, you risk losing this moment for all of us in Baltimore. Turn around. Go home. Please.
Earlier this year, Simon sat down with President Barack Obama to discuss criminal justice reform among other issues.
UPDATE — 7:35 p.m. ET: The Wire actors Andre Royo (Bubbles) and Wendell Pierce (Bunk Moreland) also weighed in on the situation via Twitter:
To my Beloved city Baltimore..I feel your pain. Stand up..rise UP without breaking down! Discipline not Destruction. #VictorynotVictims

— Andre Royo (@AndreRoyo) April 27, 2015
Baltimore. These are not protestors. These are criminals disrespectful of the wishes of the family and people of good will.

— Wendell Pierce (@WendellPierce) April 27, 2015
I'm watching the Fruit of Islam, men of the Nation of Islam attempting to stop the violence and working with the police to restore calm

— Wendell Pierce (@WendellPierce) April 27, 2015
What would have been a great display of rage would have been going to the DOJ and demanding a meeting with Loretta Lynch on her 1st day.

— Wendell Pierce (@WendellPierce) April 27, 2015
A display of rage would be demanding the Dept of Justice to take over Baltimore police with a Consent Decree with our demands defining it

— Wendell Pierce (@WendellPierce) April 27, 2015
Watch live stream coverage from Baltimore below, via NBC News:
[Photo via screengrab]
— —
>> Follow Matt Wilstein (@TheMattWilstein) on Twitter
Have a tip we should know? tips@mediaite.com