Bang Ding Ow, My Bad: KTVU Pulling Videos Of Their Report On Fake Asiana Pilots From YouTube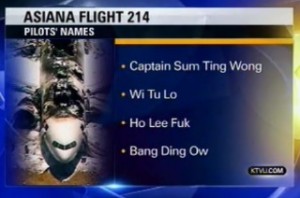 You may very well ask how–after the initial broadcast of fake names of Asiana pilots by KTVU after the San Francisco crash and the subsequent revelation that they were confirmed to KTVU by the summer intern for the National Transportation Safety board–things could possibly get worse for KTVU. Well, now KTVU has triggered what is now commonly referred to as the "Streisand effect" in its attempt to scrub all of the videos of their on-air blunder from YouTube. The stealth move has worked like a charm, except for all the reports about it, which basically makes them just about as stealthy as Inspector Clouseau.
Mediabistro's TVSpy blog took note of the DMCA takedowns on Monday, and now if you check YouTube there are a few versions of the video yet, but the most popular ones have been taken down.
A KTVU executive provided this statement to TVSpy explaining why they're trying to take down all the videos.
"The accidental mistake we made was insensitive and offensive. By now, most people have seen it. At this point, continuing to show the video is also insensitive and offensive, especially to the many in our Asian community who were offended. Consistent with our apology, we are carrying through on our responsibility to minimize the thoughtless repetition of the video by others."
This little piece of news had faded away while other big, pressing stories like childbirth dominated the headlines. But by trying to take down the videos of their unfortunate mishap, KTVU has basically reminded people of it, like the now-infamous incident from which the Streisand effect got its name.
If you needed another reminder about how this whole thing started, you can watch the video (and apology) below, courtesy of KTVU:
—–
Follow Josh Feldman on Twitter: @feldmaniac
Have a tip we should know? tips@mediaite.com
Josh Feldman - Senior Editor