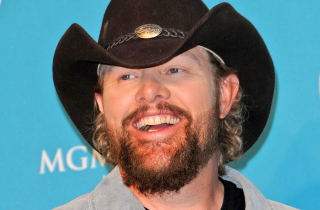 When a group of soldiers, just back from defending our freedoms in Afghanistan, headed out for a night of good old fashioned American relaxation at the Carey-On Saloon in Colorado Springs back in 2012, they let loose by singing a few rounds of karaoke at the bar. Among their song selections were the country stylings of that icon of wholesome Americana: Toby Keith, including, "Courtesy of the Red, White, and Blue (The Angry American)."
"And you'll be sorry that you messed with the U.S. of A," they sang. "Cause we'll put a boot in your ass / It's the American way." That may be true, but an even more persistent American value than loving freedom is getting paid. Bar owner LeShawn Carey soon found a different sort of boot in her ass, courtesy of the B.M. of I., otherwise known as BMI, the music publishing, royalty, and licensing organization.
As the Colorado Springs Gazette reports, Carey had not arranged for the proper licenses with the company to use Keith's music as a form of entertainment in her establishment, and she was promptly hit with a $21,000 fine.
"And the Statue of Liberty started shakin' her fist."
While most of us are familiar with the concept of state liquor boards conducting undercover stings to make sure bars are complying with liquor laws, there's a lesser known group of spies on the prowl, ones who make sure bars like the Carey-On Saloon aren't serving illegal music. They conduct operations to make sure operators are in compliance with copyright and licensing standards. To make matters worse for Carey, she was registered with ASCAP and SESAC, the other two major licensing groups, but had neglected to clear the use of Keith's music through BMI. Groups like this sign deals with musicians to ensure that proper royalties are paid when their music is used at a place of business. Regardless of whether it's a CD, mp3, karaoke, or a live band playing covers, a bar is still required to pay up.
As ASCAP's Vincent Candilora explained to the Gazette:
"Let's say if you hire a band, and you have registered with BMI, and that band plays only, say, Sheryl Crow songs, who is registered with BMI, then you are OK," Candilora said. "But once they play, say, a (Bruce) Springsteen song, who is registered with ASCAP, you are in violation of the (copyright) law if you don't have an ASCAP license."
In March, a bar in Cleveland received a complaint from BMI for a performance by a cover band alleging willful copyright infringement for each song, which could amount to $150,000 at the extreme end, as OnStage magazine reported.
Carey has worked out a payment deal with BMI, otherwise her business would have gone under. While licensing arrangements like this are, in theory, meant to protect smaller musicians and songwriters, and ensure that they get paid, which is a fair and understandable goal, one can't help but consider that Toby Keith, the artist in question here, is worth an estimated $320 million.
Now that's the American way.
[Image via Shutterstock]
— —
>> Luke O'Neil is a journalist and blogger in Boston. Follow him on Twitter (@lukeoneil47).
Have a tip we should know? tips@mediaite.com