BBC Refuses to Comment on Removal of Last North Korea Report by Expelled Journalist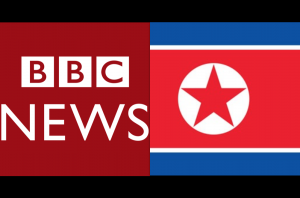 After filing what the country identified as "disrespectful" reports, North Korea yesterday expelled a BBC team of journalists, flying the team back to Beijing on a direct flight from Pyongyang. The reporter on assignment, Rupert Wingfield-Hayes, was initially detained and questioned for eight hours before being forced to sign a statement of apology.
Well now it appears as if Wingfield-Hayes' last report filed for the BBC has been removed completely from the media giant's website: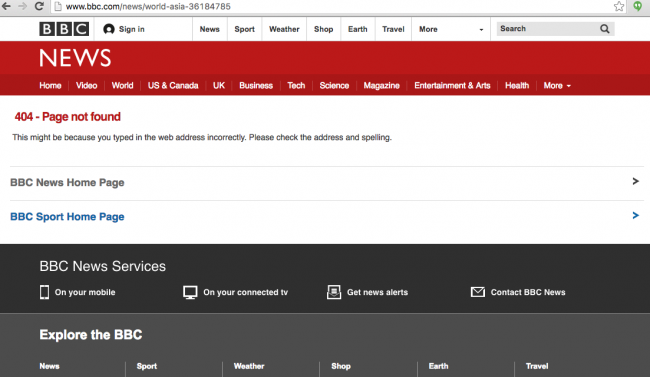 The piece in question — "North Korea: Searching for self-reliance and 'real people' in Pyongyang," — was filed on May 2 and still active as of yesterday, but appears to have been taken down altogether at some point Tuesday.
Previews that are still available on Google results for the original report reveal the following excerpt for the piece: "A team from the BBC is making a rare visit to North Korea organised by the Vienna-based International Peace Foundation (IPF). The team is joining a delegation of three Nobel laureates and a European prince. The BBC's Rupert Wingfield-Hayes reports from Pyongyang."
BBC News is refusing to comment on the takedown of Wingfield-Hayes' piece, according to Hamish Macdonald of NK News who wrote, "…the BBC said that it will not be commenting on the issue."
According to CNN, Wingfield-Hayes and his three-person team, "…had violated local customs and acted in an aggressive manner during the trip." The secretary general of the DPRK's National Peace Committee went on to say, "[The journalists] were speaking very ill of the system of the leadership of the country when they should have been reporting very fairly, objectively and very correctly."
Wingfield-Hayes and his team are not allowed back to the hermit kingdom. "We think that if the BBC is a genuine, true, international media organization you should be acting in such a way as to respect the law and system in the country, and you must admit your mistakes," the North Korean secretary general continued.
In a video report from Pyongyang, Wingfield-Hayes admitted, "So now our minders are rather upset with us because we tried to do a piece to camera in front of the statue of Kim Il Sung here and they clearly felt that we said stuff that was not respectful to the Great Leader and now we are in trouble." The team of journalists were forced to delete much of their captured content.
Wingfield-Hayes' piece focused on the North Korean political and social ideology known as Juche, which is typically translated to "self-reliance." It is a principal that argues that man is sole decider of everything in his own domain. According to the official English website for North Korea, "The Government of the DPRK steadfastly maintains Juche in all realms of the revolution and construction."
[h/t NK News]
—
J.D. Durkin (@jiveDurkey) is an editorial producer and columnist at Mediaite.
Have a tip we should know? tips@mediaite.com