Ben Stein: America's Real Race Problem Is 'Pathetic, Self-Defeating Black Underclass'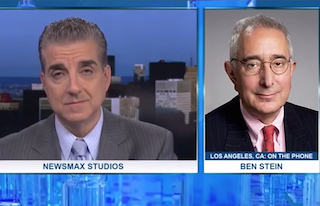 After actor-turned-game show host-turned conservative pundit Ben Stein called President Barack Obama "the most racist president there has ever been in America" two days before the midterm elections, no one should be surprised by his latest comments about the "real problem with race" in the United States.
While Stein made his previous set of controversial comments on Fox News, this time he turned to the online conservative network, Newsmax TV, where he elaborated on his thoughts about America's racial problems.
On his previous comments, Stein said that fact that some "left-wing" websites were attacking him only means that he was right. For the record, Newsmax host Steve Malzberg said he agreed with Stein's assessment about President Obama "100%."
Later, Malzberg asked Stein about recent reports that Michael Brown's mother may have been involved in some sort of armed robbery, a story that has not been widely reported in the media.
"You would think, if you read the liberal mainstream media, that the main problem with race in America was poor innocent black people being set upon and mistreated by the police. That's just nonsense," he said. "I mean, the real problem with race in America is a very, very beaten-down, pathetic, self-defeating black underclass that is, uh, just can't seem to get its way going in the way that blacks were able to before the scourge of drugs and the scourge of gangs."
"I mean, it's an amazing thing — blacks were on their way in this country, even after the horrors of slavery, and then drugs came in, the destruction of families came in, and the crisis in the black community is just absolutely unbelievable," he continued. "And that, it seems to me, is something that Mr. Obama could have addressed, and he has ignored it completely."
Watch video below, via Newsmax:
[Photo via screengrab]
— —
>> Follow Matt Wilstein (@TheMattWilstein) on Twitter
Have a tip we should know? tips@mediaite.com