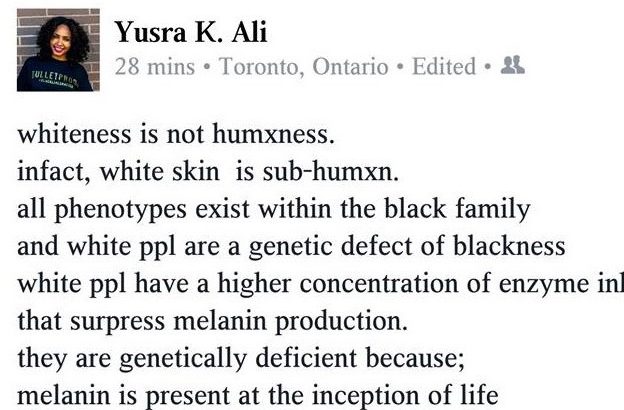 The co-founder of the Toronto chapter of the Black Lives Matter protest movement has come under scrutiny in recent days for an old Facebook post that declared white people were genetically inferior to their black peers.
"Whiteness is not humxness," wrote Yusra Khogali, in a now-deleted post (using gender-neutral alternative spelling). "In fact, white skin is sub-humxn. All phenotypes exist within the black family and white [people] are a genetic defect of blackness."
Khogali proceeded to go on an extended pseudoscientific rant about the benefits of dark skin, according to The Toronto Sun. "Melanin enables black skin to capture light and hold it in its memory mode which reveals that blackness converts light into knowledge," she claims at one point. "Melanin directly communicates with cosmic energy."
"White [people] are recessive genetic defects. This is factual," she claimed, nonfactually.
Khogali made the Facebook post months ago, but her comments resurfaced after she declared Canadian Prime Minister Justin Trudeau "a white supremacist terrorist," earning her criticism from liberal allies.
Black Lives Matter co-founder appears to label white people 'defects' | News | Toronto Sun https://t.co/1iSeoqBQM7

— Jake Tapper (@jaketapper) February 13, 2017
[image via screengrab]
——
>>Follow Alex Griswold (@HashtagGriswold) on Twitter
Have a tip we should know? tips@mediaite.com