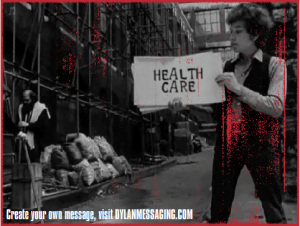 God bless the Internet. Only just yesterday our columnist Andrew Potter wrote about how, in the world of Web 2.0, we enjoyed countless "web-based applications that foster interactivity, modular interoperability and collaboration…that allow people to share and revise content at will." Boom! Today I find yet another, and totally brilliant, example of this: A user-generated "Subterranean Homesick Blues" video app that lets you input your own personal message — and which a young Bob Dylan subsequently holds up on cards for your viewing pleasure.
It's a brilliant app, and brilliant marketing — the best way to get people to post your content is to make them think it's their content. The application, available on the official website for "Dylan," the latest collection of the artist's greatest hits, (NB: We saw this brilliant seeding of consumer content as user-generated content with the Ikea Facebook app last month.)
It is especially brilliant when used as a tool for social commentary and messages about standing up to the MAN! — which is why the source of this discovery for me was so perfect. I found it on the personal Tumblr of none other than Peter Feld, branding expert, political consultant, longtime activist and one our our columnists, who posted this message in Dylan's hands: "You don't need a Lieberman to know which way the wind blows. Tell Sen. Reid to pass health care reform using reconciliation, which requires only 51 votes." The video struck me as the perfect use of that kind of app — with an exhortation to buy Dylan's new album, of course.
The video is on the next page — Peter set it to auto-play and I know some of you are actually working, so I didn't want to alarm you. I also included a few extra videos for fun — which you should have, too, by clicking and making your own video here.

>>>NEXT: Peter Feld Makes User-Generated Video Just Like A Woman
Have a tip we should know? tips@mediaite.com