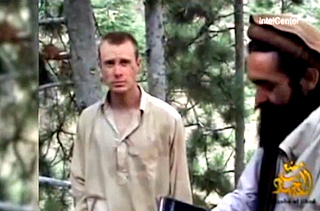 A growing chorus of Bowe Bergdahl's fellow soldiers are calling the Army sergeant, who was released by the Taliban this weekend in a prisoner swap with the United States, a "deserter," saying he was captured after walking away from his base, and that soldiers died in attempts to locate him.

There have been rumblings about Bergdahl's disappearance since it happened in June of 2009. But according to Nathan Bradley Bethea, his fellow soldiers have been under order not to speak about incident. "He is safe, and now it is time to speak the truth," Bethea wrote in the Daily Beast Monday morning. "And that the truth is: Bergdahl was a deserter, and soldiers from his own unit died trying to track him down."
RELEASED: Bergdahl's Parents in Teary Conference: 'Proud of How Far You Went to Help Afghan People'
Bethea is not alone in this opinion. "He walked off," Former Pfc. Jose Baggett said to CNN's Jake Tapper. "He left his guard post. Nobody knows if he defected or he's a traitor or he was kidnapped. What I do know is he was there to protect us and instead he decided to defer from America and go and do his own thing. I don't know why he decided to do that, but we spend so much of our resources and some of those resources were soldiers' lives."
According to other soldiers, Bergdahl had spoken of walking off from Afghanistan, and per emails obtained by the late Rolling Stone reporter Michael Hastings, he had written his parents expressing his dissatisfaction with the U.S. war effort in the country.
They also allege that precious resources — everything from drones to water — were redirected to the hunt for Bergdahl, which ended up claiming the lives of six servicemen. "It was unbelievable," one soldier said. "All because of the selfish act of one person. The amount of animosity (toward him) is nothing like you've ever seen before."
It is unclear whether Bergdahl will be the subject of a military investigation following his recuperation in a military hospital.
[h/t CNN/ Daily Beast]
[Image via screengrab]
——
>> Follow Evan McMurry (@evanmcmurry) on Twitter
Have a tip we should know? tips@mediaite.com