Boy Asks TSA Agent Why Mom Gets Pat Down And Not Him, TSA Replies "You Don't Have Boobs"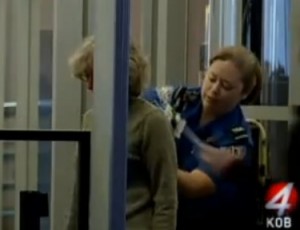 A California woman is suing the TSA following an allegedly harassing and offensive episode at Albuquerque International. Adriene Durso claims to have been subjected to an "invasive breast groping" in full public view by a TSA agent, despite protestations that stemmed from undergoing a mastectomy in the previous year. When the woman's son asked why he wasn't getting similar treatment, the TSA supervisor reportedly told the boy "you don't have boobs."
Writing for InfoWars, Steve Watson reports:
Adrienne Durso describes how a female TSA officer pulled her out of line after she had gone through the metal detector and proceeded to pat her down, "Heavily concentrating on my breast area" in a search that "just seemed to go on and on".

Relating her story to KOB Eyewitness News 4, Ms. Durso explained how she was made to feel humiliated in front of her seventeen year old son and the rest of the queuing passengers.

"I felt as though I didn't have any rights other than I had to stand there and let them do what they want to do to my body," Durso said.

Feeling violated and embarrassed, Ms. Durso asked to speak to a TSA supervisor.

As if things couldn't get any worse, when the supervisor arrived and Ms. Durso's son asked why he had also not been subjected to the body search, the TSA agent told the boy "well you don't have boobs".
Watch the report courtesy of KOB Eyewitness news
(H/T Reddit)
Have a tip we should know? tips@mediaite.com
Colby Hall - Founding Editor