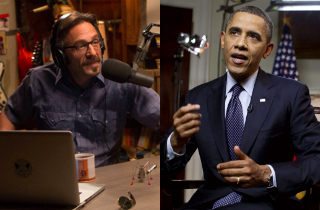 Look who coming to Marc Maron's garage. In a huge moment for the world of podcasting, President Barack Obama is set to sit down with the comedian for his long-running WTF podcast on Friday for an extended interview that will go live on Monday.
In the intro to his latest interview with Judd Apatow that went up on Thursday, Maron broke the news to his listeners and fans.
"Brace yourselves. Are you sitting down? OK. Now, take a breath. All right," he began. "If everything goes as planned, on Monday, I will post a WTF — an episode of this show that you're listening to now — featuring myself in conversation with, talking to, at my home in my garage, me, talking to the President of the United States of America, Barack Obama."
President Obama is scheduled to arrive in Los Angeles on Thursday afternoon to attend two Democratic National Committee fundraisers and will presumably squeeze in a trip to Maron's humble East LA garage on Friday before heading back east. The move falls in line with previous unconventional interviews Obama has gamely participated in, most notably the Between Two Ferns with Zach Galifinakis episode that helped boost Obamacare signups last spring.
But despite the fact that Maron is a comedian, listeners should not expect and light and breezy conversation. Before launching WTF in 2009, Maron was a politically-savvy host on the short-lived liberal Air America station. In the years since, he has conducted in-depth, often dark interviews with comedians like Louis C.K., who broke down their fractured friendship, Robin Williams, who opened up about depression and Todd Glass, who used the show to come out as gay.
Speaking on his show Thursday, Maron called Obama an "incredibly brilliant and interesting man" and assured his listeners that he's totally "not freaking out about it at all."
"You know what? I should probably clean the house a little," he added.
Listen to Maron announce the news below, via WTF:
UPDATE — Jun. 19, 4:45 p.m. ET: Looks like it really happened…
Monday is @POTUS day on @WTFpod! pic.twitter.com/HVZQhKYXNM

— marc maron (@marcmaron) June 19, 2015
[Photo via screengrab]
— —
>> Follow Matt Wilstein (@TheMattWilstein) on Twitter
Have a tip we should know? tips@mediaite.com