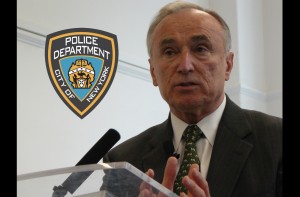 NYPD Police Commissioner Bill Bratton, who has served in the position in Gotham since 2014, is expected to resign later today.

The move comes amid mounting protests outside City Hall in New York City by Millions March NYC as part of the #ShutDownCityHallNYC efforts in which protestors had been planning to establish encampments in public spaces in favor of higher accountability of law enforcement.
JUST IN: NYPD Commissioner Bill Bratton to resign today, @ABC News confirms.

— ABC News (@ABC) August 2, 2016
"We're here to decolonialize and to liberate our territory and our land from these racist occupiers," said one protestor to The Guardian.
The demands of the protestors to New York City mayor Bill de Blasio are threefold in nature. First, the termination of Chief Bratton and the end of what's known as "Broken Windows" policing. Next, defunding of the NYPD in favor of money going into minority working class communities. And finally, reparations paid to victims and families of police brutality.
#ShutdownCityHallNYC is back at City Hall Park. Day 2 of shutdown begins! Come through! #AbolishPolice pic.twitter.com/NMqdXIdpNW

— Millions March NYC (@MillionsMarch) August 2, 2016
The protestors had begun gathering and setting up shop outside City Hall at 9 a.m. Monday. Protestors held up signs that read things like, "We see police get away with murder."
Chief Bratton previously served as the Commissioner of his hometown Boston Police Department from 1992-1994, and the Chief of the LAPD from 2002-2009 before returning to New York. According to a report by the Dow Jones, Chief of Department James O'Neill will replace the outgoing Bratton.
Have a tip we should know? tips@mediaite.com