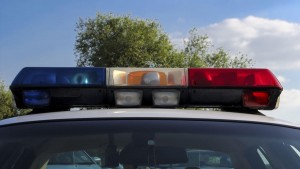 Online and television outlets are reporting a possible active shooter situation at Building 26 of the Naval Medical Center San Diego. The facility's Facebook page posted the following chilling notice at 8:10 am:
"**!ATTENTION!** An active shooter has just been been reported in building #26 at Naval Medical Center San Diego. All occupants are advised to run, hide or fight. All non-emergency response personnel are asked to stay away from the compound, located at 34800 Bob Wilson Drive, San Diego, CA 92134."
The building in question is the fitness center. Here's a picture of the scene outside the fcility's gate minites ago:
BREAKING: long lines of people & cars at gate of Naval Medical Center; reported active shooter @nbcsandiego pic.twitter.com/z34phTTYiz

— Liz Bryant (@LizBryantTV) January 26, 2016
According to local news, the facility unveiled a new training center just yesterday:
Naval Medical Center San Diego unveils its New Bio Skills and Simulation Training Center. #NBC7 #Navy pic.twitter.com/n3fOR967dG

— Bridget Naso (@BridgetNaso) January 26, 2016
Very little is known at this time, but you can watch a live feed of the coverage above, and we will update this story as it unfolds.
UPDATE – 11:54 A.M. EST SWAT officers have arrived on the scene and are working to engage the situation:
MORE: San Diego PD said hospital officials reported shots fired, details unclear https://t.co/Frt4H7K0UC pic.twitter.com/J84lpP1PeO

— RT America (@RT_America) January 26, 2016
San Diego Fire confirms that military police are handling report of an active shooter situation on Navy base https://t.co/uLcfg3xGy3

— Los Angeles Times (@latimes) January 26, 2016
BREAKING NEWS – ACTIVE SHOOTER: SWAT team arriving at San Diego Naval Medical Center. pic.twitter.com/qUstU7rZbC

— Breaking News Feed (@pzf) January 26, 2016
UPDATE – 12:07 P.M. EST CNN confirmed reports that civilians are being asked to retreat from the area around the building, and all nearby businesses have suspended their activities.
MORE: Several San Diego schools on lockdown after report of active shooter at Navy facility https://t.co/NYvN6ntR1Q https://t.co/aJezw9WVkU

— CBSN (@CBSNLive) January 26, 2016
DEVELOPING: Lockdowns reported at schools near Naval Medical Center San Diego https://t.co/xZCt5r51Up pic.twitter.com/zDFQ3xykqR

— New York Daily News (@NYDailyNews) January 26, 2016
UPDATE – 12:15 P.M. EST BNO News reported that the shooter did not aim at people, but fired several shots into the air. The report also says that police are currently working to confirm, and no one has been taken into custody yet. ABC's Gio Beitez reported a similar development.
NEW: Navy official says someone claimed to have heard gunshots near Building 26 at Naval Med Center San Diego. So far no injuries reported.

— Gio Benitez (@GioBenitez) January 26, 2016
UPDATE – 12:40 P.M. EST Schools around the area have reportedly started to lift their lockdowns:
Lockdowns lifted at Roosevelt Middle, San Diego High and Garfield High,however students and staff continue to shelter in place.

— San Diego Unified (@sdschools) January 26, 2016
UPDATE – 12:49 P.M. EST The medical center has released a statement on the situation:
MORE: #NMCSD releases statement concerning active shooter situation https://t.co/Frt4H7K0UC pic.twitter.com/NKonGYPMSD

— RT America (@RT_America) January 26, 2016
UPDATE – 1:46 P.M. EST A Navy spokesman recently told the media that examinations are still ongoing throughout the building, but there are currently no indications that any shots were actually fired:
#CNN: Navy captain: No indication shots fired at Naval Medical Center in San Diego. Says person reported "they thought they heard something"

— AnneClaire Stapleton (@AnneClaireCNN) January 26, 2016
Navy captain says nothing indicates shots fired at Naval Medical Center in San Diego, but search continues https://t.co/mGpDZ15Mwy

— Breaking News (@BreakingNews) January 26, 2016
UPDATE: US Navy spokesman: Nothing to indicate shooting at San Diego facility; evacuations ongoing as precaution. https://t.co/1m0J5Ep3vr

— NBC Nightly News (@NBCNightlyNews) January 26, 2016
[image via screengrab]
Have a tip we should know? tips@mediaite.com