Breitbart TV Calls Out National Review's Joe Biden Edited Video 'Garden Variety Slap' Smear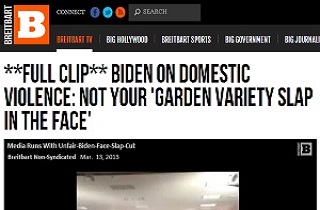 On Wednesday, the conservative National Review Online posted a heinously edited clip, of Vice President Joe Biden's remarks on domestic violence, that smeared the VP as unconcerned with certain forms of domestic violence. After several hours, the author stealth-corrected the post, and after we called them out for failing to properly fix their smear, published an apology. The response from other conservative sites that spread the smear ranged from ignoring the correction, to whispering the correction, to the rare repudiation of NRO's shenanigans. One site, though, not only never fell for the edit, but even posted the full context of Biden's remarks.
In a speech on reducing domestic violence homicides, Vice President Biden, in drawing a distinction between unacceptable forms of abuse, used the unfortunate phrase "garden-variety slap across the face," but his meaning was clear: he was drawing distinctions between benchmarks in the cycle of abuse, in order to determine the level of intervention required. Here's what Biden said:
We've learned that certain behaviors on the part of an abuser portend much more danger than other behaviors. For example, if an abuser has attempted to strangle his victim, if he has threatened to shoot her, if he has sexually assaulted her, and there's a number of other signs, about eight others. These are tell-tale signs to say this isn't your garden-variety slap across the face, which is totally unacceptable in and of itself.
But when National Review Online's Nathaniel Botwinick posted the video, he chopped the clip in mid-sentence, omitting the phrase "which is totally unacceptable in and of itself," which completely changed the meaning of what the VP had said. After several hours (and maybe an angry email; NRO won't say), Botwinick added the phrase back in, with a note that the post had been "amended." Several hours later, Botwinick apologized in an author's note that had "angry editor" fingerprints all over it:
UPDATE: I apologize for my initial post which clipped the vice president in mid-sentence. I did not properly check the video in my haste. The complete remark, now on the amended post, changes the meaning. I sincerely apologize to the vice president and to our readers.
The National Review is a respected-enough publication that it's likely the post drew high-profile complaints, and given the progression of Botwinick's corrections, it's not a given that it would ever have been corrected on its own. Botwinick's claim of "haste" is dubiou, as well, unless he's referring to the haste that prevented him from better disguising his despicable edit. The original clip is cut to make it obvious that Biden was about to complete his sentence.
That's an important fact, because even the sites that eventually corrected their own repetitions of NRO's smear deserve zero credit for doing so. Watch the original tape, and you will see there is no excuse for posting this clip uncritically.
Michelle Malkin's Twitchy corrected their post, after many hours, by leaving in the chopped video, but adding a tiny notation about the edit. They made no attempt to condemn NRO's attempt to smear Biden, despite their shrieks of complaint about much more reasonable edits. They continued to push the smear, however, in a later post.
Hot Air's normally-reasonable Allahpundit amended his post by noting "Ah, turns out the clip cuts off without capturing the end of his sentence. "Garden variety" is an odd term to use, but Biden did end up condemning that too," and included no trace of condemnation for the smear.
Human Events' John Hayward moved ever-so-slightly in the right direction, noting in his correction that such a smear is "never cool," while the lesser-known The Right Scoop meekly added that "It would be nice in the future if NRO doesn't do hatchet jobs on their videos."
As little credit as these sites deserve, there are a raft of well-trafficked conservative outlets that have still refused to correct their repetitions of NRO's smear. The Washington Times' Douglas Ernst posted the transcript of the NRO's edit, without linking or crediting a source, and has not corrected it. Townhall's Katie Pavlich posted the edited video, and has not noted the correction in her outraged commentary. The Washington Free Beacon has also let the edited video stand. Most shockingly, the normally-fastidious (on matters like this) TheBlaze.com has not corrected its video and transcript of the edited remarks.
However, there is one high-profile conservative site that not only didn't bite on this shameful smear, but actually posted the Vice President's remarks in their full context (although several hours after we did), and noted (though not by name) the smear that was gaining steam on the right. That site was Breitbart TV, which is run by wrong-about-everything but decent-human-being Larry O'Connor, who tracked down a longer video from a different angle, and posted it along with this note:
Watch this clip of Joe Biden talking about a "slap in the face" in a domestic violence dispute. The clip has made the rounds today cut off after the "money quote" but left out the Vice President saying that any slap in the face is unacceptable.
The other editors at Breitbart News could take a lesson from Larry in class and credibility, but the site, and Larry, deserve credit for rejecting this despicable smear.
As all but the most deranged partisans know, the only thing bigger than the foot Joe Biden occasionally sticks in his mouth is Joe Biden's heart, and he deserved better than this. Now that the offending websites have been named, we'll see if they're capable of being shamed.
Update: The Blaze has corrected their post, with reference to NRO's apology.
Townhall's Katie Pavlich has also posted a correction.
The Washington Free Beacon has posted a correction.
And now, The Washington Times has graciously corrected its transcript, without noting the correction or the apology.
The Washington Times has added an editor's note, as well:
(Editor's Note: This post originally drew from a video posted by National Review Online, which was edited in a way that did not include "which is totally unacceptable in and of itself." The post has now been amended to include Vice President Joseph R. Biden's full remarks.)
Have a tip we should know? tips@mediaite.com