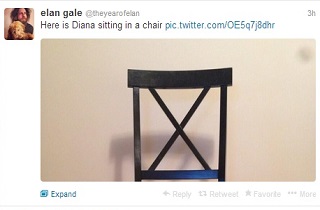 On Thanksgiving Day last week, Buzzfeed discovered an epic feud aboard a delayed flight, and sent the tale of Bachelorette producer Elan Gale and obnoxious passenger "Diane" into the viral stratosphere. In the cold light of day, though, the story shriveled up like so much leftover turkey, and with the added twist that maybe "Diane" had cancer, Gale admitted the whole thing was a hoax. Even though the story had more holes in it than a promotional miniature golf course at a Finlandia plant, Buzzfeed reported on Gale's Twitter admission by asking "Was it all just a brilliant hoax?"
In case you missed it, Gale sent a series of tweets Thursday describing an obnoxious passenger named "Diane" who loudly berated the flight crew about the urgency of her own holiday plans, complete with photos of the notes he sent to "Diane" to put her in her place, all of which culminated in a slap. As the story went viral, a woman claiming to be Diane's cousin told the world that the alleged impatient traveler has cancer, and maybe a reason to be cranky.
Then, Gale's fellow Twitter viral star Melissa Stetten pointed out that Gale has a history of sketchy online oversharing, and wondered why nobody questioned the story. As we noted yesterday, even a shallow dive into the details of the story reveals fatal flaws, like the idea that a flight attendant would deliver a nasty note with a glass of wine to an already-antagonistic customer, after first deliver said drink to Elan's tray table for photographing.
On Monday night, Gale gave up the game on Twitter, tweeting "Here is Diana sitting in a chair," accompanied by a photo of an empty chair, and added a hope that "a few people got a few laughs over a slow Thanksgiving weekend."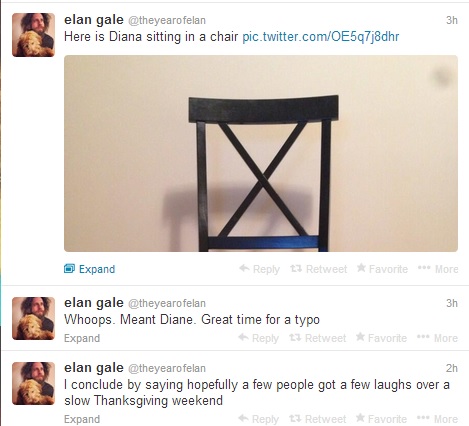 Buzzfeed, having given Gale's tale its Red Bull wings, reported on the hoax revelation with a combination of "Who could have known?" innocence and weird skepticism. "The Truth Behind That Epic Note-Passing War On A Thanksgiving Flight" read the headline, followed by the cautious sub-hed "Was it all just a brilliant hoax?"
Wait, so now you use the question mark?
Remember Thanksgiving's insane, passive-aggressive note-passing fight between ABC producer Elan Gale and Diane in 7A? Gale took to Twitter tonight and seemed to confess it was all a big lie.

…Probably a smart move on Gale's part, as a hoax-on-top-of-a-hoax began circulating that Diane actually had cancer.

…You got us, Elan! And 140,000 new Twitter followers to boot.
It's not the crime of the century to be taken in by a throwaway story about a psychotically elaborate Twitter hoax, but that doesn't make it brilliant. Conversely, the hoax not being brilliant doesn't make you an idiot for believing it. Far more disturbing was the widespread acceptance and lauding of Gale's repeated sexually hostile messages, made more disturbing by the fact that they were pure fantasy.
Have a tip we should know? [email protected]