'Bye-Bye America': President Rodrigo Duterte Says Philippines Can 'Survive Without American Money'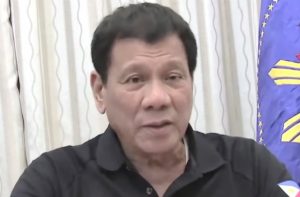 In response to a U.S. government aid agency stating that it was going to defer the selection of the Philippines to receive a funding grant due to concerns over human rights violations, President Rodrigo Duterte lashed out, threatening to get rid of a pact that allows American troops to visit the country.
The Millennium Challenge Corporation had already issues a five-year, $434 million grant to fight poverty to the country that ended in May 2016. However, in light of the extrajudicial killings that have taken place in the Philippines since Duterte took power, the MCC is rethinking their decision to give the country another compact.
The Millennium Challenge Corporation said it has "deferred a vote on the re-selection of the Philippines for compact development, subject to a further review of concerns around rule of law and civil liberties."

"This decision reflects the Board's significant concerns around rule of law and civil liberties in the Philippines," embassy spokeswoman Molly Koscina said in a statement emailed to AFP.
According to the AP, Duterte said he welcomes the fact that the country has been "stricken out of the Millennium Challenge." "We can survive without American money," he added.
"But you know, America, you might also be put to notice. Prepare to leave the Philippines, prepare for the eventual repeal or the abrogation of the Visiting Forces Agreement," he said, referring to a 1998 accord that governs American forces visiting the Philippines for joint combat exercises.

"You know, tit for tat … if you can do this, so (can) we. It ain't a one-way traffic," Duterte said, adding tauntingly, "Bye-bye America."
Duterte has been highly critical of both America and current president Barack Obama. Earlier this year, he called Obama a "son of a whore" and then later claimed that he was splitting with America" and siding with China.
However, the famously foul-mouthed 71-year-old leader has apparently spoken with President-elect Donald Trump and has been invited to visit the White House next year. Trump also supposedly complimented Duterte on his tactics in the Philippines in dealing with drug users and dealers, which has lead to thousands of deaths.
[image via screengrab]
–
Follow Justin Baragona on Twitter: @justinbaragona
Have a tip we should know? tips@mediaite.com