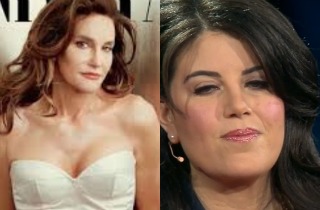 Caitlyn Jenner was familiar with cyberbullying even when she was still a man named Bruce. In the soon-to-be-released article from Vanity Fair, Buzz Bissinger gave an excerpt on Jenner's efforts to cope with the public reactions to her transformation.
Jenner began with a discussion on the struggles and gossip she has gone through, from her 2013 separation from Kris Kardashian, to the online aftermath of her revelation on ABC News.
One particular moment being an article from In Touch Weekly, where Bruce Jenner's head was placed on the body British actress Stephanie Beacham with a headline of "Bruce's Story: My Life as a Woman". In the midst of recent tabloid rumors and online ridicule, Jenner recently found strength and empathy in a fellow target of public shame: Former White House intern Monica Lewinsky.
Following her facial feminization surgery, Jenner recounted a moment where she was sitting in her kitchen while listening to Lewinsky's piece on TED Talks. Lewinsky, who gained notoriety following her affair with former president Bill Clinton, talked about the "blood sport" of public shaming, calling herself the "patient zero" of cyberbullying. Bissinger wrote that Lewinsky's words "struck a chord" with Jenner, who resonated with Lewinsky on the importance of perseverance.
"Anyone who is suffering from shame and public humiliation needs to know one thing: You can survive it," Lewinsky said at the time.
And following Jenner's public reveal, Lewinsky herself was one of the first public figures to herald Jenner's arrival to Twitter.
insisting on a different ending to her story is EXACTLY what @Caitlyn_Jenner is doing. she is helping so many. BRAVA! @VanityFair

— Monica Lewinsky (@MonicaLewinsky) June 1, 2015
[h/t The Hill]
[Image via Vanity Fair/Screengrab]
Have a tip we should know? tips@mediaite.com